Poland Detects Leak in Russia's Druzhba Oil Pipeline
8/6/2023
(Reuters) — Polish pipeline operator PERN said it had halted pumping through a section of the Druzhba pipeline, which carries oil from Russia to Europe, after detecting a leak in central Poland on Saturday, but it expects flows can be resumed on Tuesday.
There was no indication as to the cause of the leak, which follows a series of attacks on pipelines carrying Russian oil and gas since Moscow launched its invasion of Ukraine in 2022.
"PERN services have reached the damaged section of one of the lines of the western section of the Druzhba pipeline in the commune of Chodecz," PERN said on Sunday afternoon.
"It is the main line that transports crude oil from sea deliveries to the west. Repair work on the oil pipeline is currently underway. The expected time for pumping to resume is Tuesday morning."
PERN did not say what the impact on supply to Germany was but a spokesperson for the federal Economy Ministry in Berlin said: "We are in contact with the operators of the East German refineries. The security of supply is still fully guaranteed."
Firefighters and PERN emergency services were at the scene but there were no reports of a fire.
"The part of the pipeline that was affected by the leak was cut off from the rest, so the scale of the leak is not huge, we're talking about a rectangular area measuring 30 by 210 meters (yards)," Grzegorz Jankowski from the State Fire Services in Wloclawek told private broadcaster TVN24.
PERN said the second line was operating normally and there was no health threat to local residents, adding that the company was investigating the cause of the leak.
It said supply to Polish refineries was not impacted and that it was in contact with German partners receiving oil through the pipeline. Germany stopped buying Russian oil in January, but German media have reported that Kazakh oil was being imported through the line.
Germany's industry association for fuels and energy did not immediately respond to requests for comment.
"Other elements of PERN's infrastructure, including (Druzhba's) Pomeranian section, which is used to pump crude oil arriving in tankers to Poland and then further to Germany, are operating in standard mode," PERN said in its statement.
The Druzhba oil pipeline is one of the world's largest and can carry 2 million barrels per day. The total capacity of the western section of both lines that carry oil from central Poland to Germany is 27 million tonnes of crude oil per year.
Flows through the Druzhba pipeline have dropped sharply since Russia's invasion of Ukraine and pipeline infrastructure has been hit several times since in attacks that Moscow has blamed on Ukraine. Ukraine has not acknowledged the attacks.
Europe has been on high alert over the security of its energy infrastructure since major leaks were found in the Nord Stream 1 and 2 gas pipelines running from Russia to Europe under the Baltic Sea in September.
The leaks were found to have been caused by unexplained explosions which ruptured both pipelines. Moscow has blamed Ukraine and the West for the blasts, which occurred as Europe was reducing its reliance on Russian energy in response to the Russian invasion of Ukraine.
Ukraine and Western leaders have denied any responsibility for the attacks, calling them an act of sabotage that they are investigating.
Related News
Related News
Sign up to Receive Our Newsletter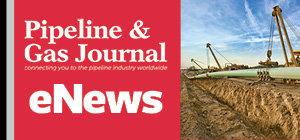 Pipeline Project Spotlight
Owner:
East African Crude Oil Pipeline Company
Project:
East African Crude Oil Pipeline (EACOP)
Type:
TotalEnergies in discussions with a Chinese company after Russian supplier Chelpipe was hit by sanctions.
Length:
902 miles (1,443 km)
Capacity:
200,000 b/d
Start:
2022
Completion:
2025