US Awards $1.2 Billion to Oxy, Climeworks-Led Carbon Air Capture Hubs
8/11/2023
(Reuters) — The U.S. Department of Energy on Friday announced that projects in Texas and Louisiana to remove more than 2 million metric tons of carbon emissions per year will get over $1 billion in federal grants, a key step in scaling up direct air capture (DAC) technology.
The Department of Energy (DOE) selected Project Cypress in Louisiana, run by Battelle, Climeworks Corporation and Heirloom Carbon Technologies, Inc.; and the South Texas DAC Hub in Kleberg County, Texas, proposed by Occidental Petroleum's (Oxy) subsidiary 1PointFive and partners Carbon Engineering Ltd. and Worley.
The agency also launched several new initiatives aimed at bringing the cost of the technology down to less than $100 per net metric ton of CO2-equivalent within this decade. That includes a $35 million government procurement program for carbon removal credits, and funding for 14 feasibility studies and five engineering and design studies for earlier-stage hub projects.
Worsening climate change and inadequate efforts to cut emissions have thrust carbon removal into the spotlight. U.N. scientists estimate billions of tons of carbon must be sucked out of the atmosphere annually to keep in line with a global goal to cap global warming at 1.5 degrees Celsius.
DAC, when deployed at scale, can help the U.S. meet its goal of neutralizing greenhouse gas emissions by 2050, according to the DOE.
But the young technology needs to become much cheaper to deploy at the scale needed to affect the planet.
"If we deploy this at scale, this technology can help us make serious headway toward our net zero emissions goals while we are still focused on deploying, deploying, deploying more clean energy at the same time," Energy Secretary Jennifer Granholm told reporters.
The grants are the first made by the Energy Department, which got $3.5 billion from Congress to invest in regional DAC hubs from the passage of the bipartisan infrastructure bill.
Vicki Hollub, CEO of Oxy, told reporters that the project has the potential to remove up to 30 million tons of CO2 per year when fully operational and "validates our readiness, technical maturity, and our ability to use Oxy's expertise in large projects."
The Louisiana project will hire workers displaced from the fossil fuel industry to fill some of its projected 2,300 jobs.
DAC uses chemical reactions to remove CO2 from the air, which can then be stored underground or used in products such as concrete or aviation fuel.
Climeworks said its hub will be built in several stages with an eventual 1 million tons per year capacity by 2030 and construction starting as soon as possible.
"It depends on multiple factors, but I would wish to have first capture in 2025/2026," Jan Wurzbacher, Climeworks director and founder told Reuters.
He said factors such as the timeline of the permitting process would be out of the company's control.
Although most environmental activists acknowledge that carbon removal will be needed for global climate targets to be met, they are concerned companies could use carbon removal development to give fossil fuel companies cover to maintain production, especially in minority and low-income areas.
The announcement comes just over three months before the COP28 climate summit, where the host country, the United Arab Emirates, is expected to focus on the role of carbon removal technologies such as DAC.
This month, its national oil company ADNOC and Occidental agreed to evaluate investment opportunities in DAC in the United States and overseas.
Erin Burns, director of carbon removal advisory firm Carbon180, said the United States is positioning itself as a leader in this technology.
"This is the first major federal investment from any country on carbon removal at this level," Burns said. "The U.S. is making a very large bet on this technology."
Related News
Related News
Sign up to Receive Our Newsletter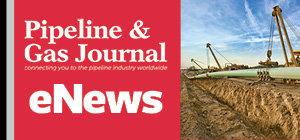 Pipeline Project Spotlight
Owner:
East African Crude Oil Pipeline Company
Project:
East African Crude Oil Pipeline (EACOP)
Type:
TotalEnergies in discussions with a Chinese company after Russian supplier Chelpipe was hit by sanctions.
Length:
902 miles (1,443 km)
Capacity:
200,000 b/d
Start:
2022
Completion:
2025