China's Yulong Petrochemical in Preliminary Oil Deals with BP, Chevron
2/27/2023
(Reuters) — China's Yulong Petrochemical on Monday said it had signed memorandum of understanding agreements with BP and Chevron to supply its 400,000 barrel per day greenfield refinery in northern China.
Yulong Petrochemical, which is building the refinery and a 1.5-million-tonne-per-year ethylene complex in Shandong province, is aiming to start commercial operation of the whole complex by December 2024, a Shandong government official said at an investment forum in Singapore.
A BP spokesperson in China could not immediately comment on the agreement. Chevron declined to comment on commercial negotiations.
The new refinery in Longkou county in Shandong province is aiming to carry out test runs late this year, a Yulong executive told Reuters on the sidelines of a signing ceremony at the forum.
The $20-billion Yulong project will add to two large similar-sized refinery and petrochemical complexes started late last year, in China's latest wave of refining expansion focused on petrochemical products such as plastics and chemical fibre rather than transportation fuel.
The Yulong refinery will help Shandong, China's No.3 provincial economy, scale up its fragmented refining sector, made up of some 60 small refiners, in line with Beijing's push to close inefficient plants and build large, competitive manufacturers.
The province was expected to have closed down 10 smaller refineries with combined refining capacity of more than 500,000 barrels per day by the end of last year to make way for the Yulong plant.
Yulong Petrochemical is 51% owned by private aluminum smelter Nanshan Group, 46.1% owned by provincial government-backed Shandong Energy Group and the remainder by two local firms.
To extend the mega complex's value chain, Longkou government told the forum that it is planning a new chemical park close to the Yulong project to produce high-end chemicals such as degradable plastics and special fibre used for high-performing sports products and safety gears.
Longkou, a county-level city south of Bohai Sea with an annual industrial output of 138.1 billion yuan ($19.83 billion) last year, is also where China's state-run Sinopec is building a large regasification terminal for liquefied natural gas.
($1 = 6.9631 Chinese yuan renminbi)
Related News
Related News
Sign up to Receive Our Newsletter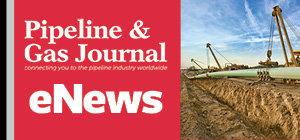 Pipeline Project Spotlight
Owner:
East African Crude Oil Pipeline Company
Project:
East African Crude Oil Pipeline (EACOP)
Type:
TotalEnergies in discussions with a Chinese company after Russian supplier Chelpipe was hit by sanctions.
Length:
902 miles (1,443 km)
Capacity:
200,000 b/d
Start:
2022
Completion:
2025