Nord Stream Blast Inquiries Ongoing, Say Denmark, Sweden, Germany at UN
2/21/2023
(Reuters) — Investigations by Denmark, Germany and Sweden into explosions on the Nord Stream gas pipelines have not yet concluded, the three countries told the U.N. Security Council in a letter on Tuesday ahead of a meeting called by Russia on the September incident.
Russia wants the 15-member council to ask for an independent inquiry into the blasts on the pipelines connecting Russia and Germany, which spewed gas into the Baltic Sea. A vote has not yet been scheduled on the proposal and is unlikely on Tuesday.
Denmark, Germany and Sweden told the Security Council in their joint letter that the "Russian authorities have been informed regarding the ongoing investigations" by their national authorities, which had so far established that the damage to the pipelines was caused by "powerful explosions due to sabotage."
"These investigations have not yet been concluded. At this point, it is not possible to say when they will be concluded," the letter said. "The authorities of Denmark, Germany and Sweden have been in dialogue regarding the investigation of the gas leaks, and the dialogue will continue to the relevant extent."
Russia has asked U.S. economist Jeffrey Sachs, of the Center for Sustainable Development at Columbia University, to brief the Security Council at Tuesday's meeting.
"The environmental damages are considered to be local and limited to the areas affected by the leaks. The consequences as concerns greenhouse gas emissions are substantial and worrisome," Denmark, Germany and Sweden wrote.
Russia's deputy U.N. ambassador, Dmitry Polyanskiy, has said the aim was to put the proposal for an independent inquiry to a vote at the Security Council this week. A council resolution needs at least nine votes in favor and no vetoes by the United States, Britain, France, China or Russia to pass.
This means a vote could coincide with meetings of the U.N. General Assembly and Security Council to mark the first anniversary of Moscow's invasion of Ukraine. The 193-member General Assembly is likely to vote on Thursday to again demand Moscow withdraw its troops and call for a halt to hostilities.
Related News
Related News
Sign up to Receive Our Newsletter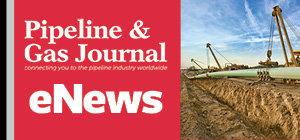 Pipeline Project Spotlight
Owner:
East African Crude Oil Pipeline Company
Project:
East African Crude Oil Pipeline (EACOP)
Type:
TotalEnergies in discussions with a Chinese company after Russian supplier Chelpipe was hit by sanctions.
Length:
902 miles (1,443 km)
Capacity:
200,000 b/d
Start:
2022
Completion:
2025