2,000-Mile Carbon Pipeline Project Sparks Battle Among North Dakota Landowners
1/31/2023
(P&GJ) — Landowners from North Dakota gave testimony on Jan. 27 in favor of and against Summit Carbon Solutions' use of eminent domain to construct a 2,000-mile carbon pipeline network beneath hundreds of homes and farms in the Midwest, the Associated Press (AP) reported.
Carbon dioxide emissions from surrounding states would be collected as part of the $4.5 billion carbon pipeline project, which would then store the pollutants deep underground in North Dakota.
Landowners who questioned the company's power to eminent domain contended that a private party shouldn't be permitted to forcibly purchase their land and that the pipeline may jeopardize others who live above it.
Eminent domain is the legal authority granted to the government to take, for the benefit of the public good, private property, such as the ground beneath a person's home or farm.
In order to reduce the state's carbon footprint and enable North Dakotans to continue working in the energy and agricultural industries, landowners who supported Summit's use of eminent domain said the company's timely construction of the carbon pipeline serves a significant public interest and that those residing above the pipeline will be safe.
In a quote acquired by AP, Summit said it would utilize the safest and most reliable materials and technologies to construct the pipeline, adding that "the safety of our operations, our employees, and the communities where we operate is the foundation of [its] business."
The legislation regarding eminent domain and carbon pipelines that were heard by the Senate Energy and Natural Resources committee on last Thursday and Friday were not put to a vote right away.
Sen. Jeffery Magrum, a Republican from Hazelton, stated that he introduced the bills after learning from "several landowners" that eminent domain threats are being made by carbon pipeline developers as a negotiating tactic for access and property rights.
"We need to support property rights and our land owners as we develop our natural resources," Magrum told AP.
While the proposed bill would forbid firms who operate carbon pipelines from utilizing eminent domain, it would still permit those that operate in the oil, gas, and coal industries to do so.
"The proposed carbon dioxide pipeline would move a dangerous product through our community to a location where it cannot be used for any purpose, but instead must be injected underground and sequestered forever," Gaylen Dewing, who has worked as a farmer and rancher near Bismarck for over 50 years, told the Associated Press.
He added that the process of storing carbon dioxide underground, "would not benefit in any way" for the state's energy sector, thus carbon pipeline businesses shouldn't be allowed to use eminent domain.
Landowner Susan Doppler from Burleigh County expressed her family's opposition to having their "land torn away" in order to make space for a dangerous pipeline.
"What a worthless and disgusting inheritance to leave a future generation," Doppler told AP.
However, several other landowners in North Dakota resisted.
A different pipeline has been moving carbon between North Dakota and Canada for more than 20 years, according to Keith Kessler, a farmer and rancher in Oliver County who owns property that is inside the pipeline project's limits. He told AP that dangerous accidents from carbon pipelines are uncommon, and that pipeline has never ruptured or leaked.
Wade Boeshans, executive vice president of Summit Carbon Solutions, said in a statement to AP that the firm has to maintain its power to utilize eminent domain in order to construct carbon pipelines promptly, complete the $4.5 billion pipeline project, and maintain North Dakota's economy. The project would include Iowa, Minnesota, North Dakota, South Dakota, and Nebraska, according to the business' website.
Related News
Related News
Sign up to Receive Our Newsletter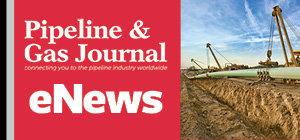 Pipeline Project Spotlight
Owner:
East African Crude Oil Pipeline Company
Project:
East African Crude Oil Pipeline (EACOP)
Type:
TotalEnergies in discussions with a Chinese company after Russian supplier Chelpipe was hit by sanctions.
Length:
902 miles (1,443 km)
Capacity:
200,000 b/d
Start:
2022
Completion:
2025