API Unveils Plan to Prioritize US Natural Gas, Northeast Pipeline Development
1/11/2023
(P&GJ) — The American Petroleum Institute (API) President and CEO Mike Sommers has released a new report and outlined the policies needed to make, move and improve American energy and prioritize U.S. natural gas and oil as a long-term strategic asset during API's annual State of American Energy event.
"The state of American energy is strong and resilient," Sommers said. "But we need policies to enhance the American energy supply chain and not hinder it. The State of American Energy could be much stronger through bipartisan cooperation, a reversal of rhetoric from the Administration, and serious policies that encourage investment and enable development."
During the event, API council devised and announced a plan for the 118th Congress to make, move and improve America's energy. As consumers face growing energy costs, API urges policymakers to take a more realistic approach and ensure that American natural gas and oil are prioritized as long-term strategic assets.
In the new report, the focus was placed on three main components:
Make: Lifting restrictions on energy development in federal waters and lands could increase domestic energy production and increase investment in the U.S. economy, according to a new Rystad study.
Move: New pipeline infrastructure in the Northeast could add 4.6 bcf per day of natural gas and invest billions locally.
Improve: American energy is produced to among the highest environmental standards in the world and is leading the way to a lower-carbon future.
"We know the solution is here. Government policy must reflect our resource abundance, our ability to build, and our willingness to get better every step of the way," Sommers concluded. "API and our industry are here for it. Ready to do the work. Ready to put in the time—this year, with this administration, with this new Congress—to craft and enact bipartisan policies to make, move, and improve American energy."
Related News
Related News
Sign up to Receive Our Newsletter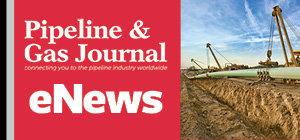 Pipeline Project Spotlight
Owner:
East African Crude Oil Pipeline Company
Project:
East African Crude Oil Pipeline (EACOP)
Type:
TotalEnergies in discussions with a Chinese company after Russian supplier Chelpipe was hit by sanctions.
Length:
902 miles (1,443 km)
Capacity:
200,000 b/d
Start:
2022
Completion:
2025