Congo Awards Lake Kivu Gas Blocks to US, Canadian Producers
1/16/2023
(Reuters) — Democratic Republic of Congo has awarded licenses to three natural gas blocks in Lake Kivu on its eastern border, with some production expected to start as early as next year, the hydrocarbons ministry said on Monday.
The Makelele block was awarded to RED, a local subsidiary of United States-based Symbion Power, the ministry said. The Idjwi block went to another U.S. company, Winds Exploration and Production LLC. The Lwandjofu block was won by Canada-based Alfajiri Energy.
The production sharing contracts will be signed within 15 days, hydrocarbons minister Didier Budimbu told Reuters. He said he hoped the Symbion Power block would begin producing in 2024.
Congo is hoping to emulate neighboring Rwanda and use vast amounts of methane underneath the lake to generate electricity that can be used to fire fertilizer and cement manufacturing. It could also be used for household cooking.
Symbion Power's chief executive officer, Paul Hinks, told Reuters that production next year could be possible "if everything goes well."
He said the process required tapping gas that is saturated in lake water more than 400 meters below the surface.
The gas block auction was part of a licensing round that included 27 onshore oil blocks. Some of the oil blocks were in Congo's rainforest and peatlands, raising environmental concerns.
Budimbu said the oil blocks tender was due to end on Jan. 29, but he was considering postponing the deadline to allow the allocation of more blocks.
Related News
Related News
Sign up to Receive Our Newsletter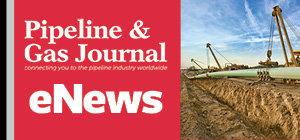 Pipeline Project Spotlight
Owner:
East African Crude Oil Pipeline Company
Project:
East African Crude Oil Pipeline (EACOP)
Type:
TotalEnergies in discussions with a Chinese company after Russian supplier Chelpipe was hit by sanctions.
Length:
902 miles (1,443 km)
Capacity:
200,000 b/d
Start:
2022
Completion:
2025