Pakistan Could Start Importing Russian Oil After March
1/23/2023
(Reuters) — Russia could start exporting oil to energy-starved Pakistan after March if terms are agreed and is discussing with Islamabad whether payment could be made in the currencies of "friendly" countries, Russia's energy minister said on Friday.
Pakistan has been battling a balance of payment crisis with foreign exchange reserves falling to $4.6 billion, barely enough to cover three weeks of imports - mostly for oil.
It said in October it was considering buying discounted Russian crude, citing neighboring India, which has been purchasing from Moscow.
Pakistani officials and Russian Energy Minister Nikolay Shulginov, who is in Islamabad for an annual inter-governmental commission on trade and economy, said the key elements of the deal had yet to be agreed.
"As for the supply of crude oil and petroleum products, we conceptually agreed on the development and signing of an agreement that will determine and resolve all issues of logistics, insurance, payment, volumes," Shulginov told reporters in Russian, according to the Russian state news agency RIA Novosti.
Shulginov also said "negotiations are going on" about settlement in the currencies of "friendly" countries, meaning non-Western countries that have not imposed economic sanctions on Russia in response to its invasion of Ukraine. Oil is generally paid for in dollars.
Shulginov said the two sides had "established a timeline of this agreement in our joint statement - which is late March", according to RIA.
Pakistan junior oil minister Musadik Malik told local Geo News TV separately that Islamabad wanted to import 35% of its total crude oil requirement.
He added: "If we have dollars in excess, then we are ready to do the trade in dollars, and if there is a shortage of dollars and we have some other currency in our reserves, we are ready to trade in that. ...
"All these things will be finalized in the next 60 days, so that by the end of March the oil supply starts from Russia."
Energy purchases account for most of Pakistan's import bill.
Shulginov said Russian gas companies might not be in a position at present to extend any supplies to Pakistan.
"We have decided that it would be a good idea for Pakistan to approach Gazprom and Novatek, two largest LNG producing companies in late 2023 to discuss the conditions when they have spare capacities," he said.
Historically Pakistan has had no major commercial relations with Moscow, unlike neighboring India, and as a traditional U.S. ally, it had also been hesitant to do trade or any business with Moscow in the past.
It currently depends on oil from Gulf countries, which often extend facilities such as deferred payments and can supply with lower transport costs, given Pakistan's relative proximity.
Related News
Related News
Sign up to Receive Our Newsletter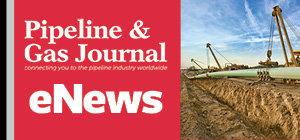 Pipeline Project Spotlight
Owner:
East African Crude Oil Pipeline Company
Project:
East African Crude Oil Pipeline (EACOP)
Type:
TotalEnergies in discussions with a Chinese company after Russian supplier Chelpipe was hit by sanctions.
Length:
902 miles (1,443 km)
Capacity:
200,000 b/d
Start:
2022
Completion:
2025