Cheniere Shunning Panama Canal for Longer LNG Routes to Asia
7/11/2023
(Reuters) — Top U.S. LNG exporter Cheniere Energy is shunning the Panama Canal to transport LNG to Asia because the market is not supporting use of the waterway, said Chief Operating Officer Corey Grindal on Monday.
The Panama Canal historically has been used by U.S Gulf Coast LNG exporters to send LNG to Asian customers via the Pacific Ocean. But a months-long drought has led to delays and depth restrictions for the largest ships accessing the canal.
"We use the canal when it is economical to do so, right now it is not. Right now, the market in the Far East is not supporting it, and the waiting time, with us not being a priority customer, is just not worth us using it right now," Grindal said in a media briefing at an LNG conference.
Other routes to Asia include sailing through the Suez Canal or a month-long journey around South Africa's Cape of Good Hope.
Cheniere continues to be buoyed by the possibility of a growing Asian market and expects there will be increased demand from countries in South and Southeast Asia, said Chief Commercial Officer Anatol Feygin.
However, some countries with large gas-reliant economies but poor credit ratings have had a difficult time figuring out how to enter into long-term agreements with purely commercial exporters like Cheniere, Feygin said.
"They tend to rely more on state-to-state agreements. Obviously, that is not something we can participate in. We see Thailand, Philippines as very attractive markets," he said.
Feygin expects China to import 100 million metric tons per year in the future, up from about 64 million metric tons last year, he said.
"China will be the largest LNG buyer this year."
Related News
Related News
Sign up to Receive Our Newsletter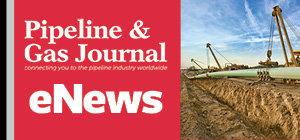 Pipeline Project Spotlight
Owner:
East African Crude Oil Pipeline Company
Project:
East African Crude Oil Pipeline (EACOP)
Type:
TotalEnergies in discussions with a Chinese company after Russian supplier Chelpipe was hit by sanctions.
Length:
902 miles (1,443 km)
Capacity:
200,000 b/d
Start:
2022
Completion:
2025