Japan to Establish LNG Reserves This Year; IEA May Play Bigger Role
7/18/2023
(Reuters) — Japan will establish an LNG reserve system this year to secure gas resources for "unexpected situations", industry minister Yasutoshi Nishimura said on Tuesday.
Japan, the world's top LNG buyer along with China, is promoting gas as a transition fuel before its economy reaches zero-neutrality in 2050. Japan also wants to be an LNG trading hub for Asia, especially for nations switching from coal to gas.
"We must accelerate energy transition and within that transition, LNG plays an extremely important role," Nishimura told the LNG Producer-Consumer Conference in Tokyo. "We have to establish a reserve for unexpected situations."
As security of the LNG market — which relies on spot sales as well as mid-to-long-term contracts — requires liquidity, Japan supports the elimination of the destination clause, an obligation not to switch the final buyer, Nishimura added.
Late last year, Japan announced the launch of the strategic LNG buffer from the current winter. Under the scheme, chosen LNG importers would secure additional volumes as a buffer which the state may later use to cover for shortfall.
According to a document released on Tuesday by conference arrangers the International Energy Agency (IEA) and its member Japan, discussion was ongoing for the IEA to coordinate gas storage capacity among its members for emergency situations.
"The increasing attention to the need for ensuring reserves... presents an opportunity to further discuss potential roles of the IEA in natural gas/LNG security, learning from its experiences in oil stockholding systems," the document said.
The European Union has proposed a so-called early warning system to exchange data about supply disruptions or other risks, and to explore protocols to coordinate delivery of LNG cargoes between regions in situations where security of supply is an issue, the document said.
The IEA — made up of 31 member countries — holds more than 60% of underground gas and LNG storage facilities globally, the document said.
"We will continue to work in the IEA to see how best to take (security of global LNG supply) forward," the director general of the EU Commission's energy department Ditte Juul Jorgensen told Reuters on the sidelines of the Tokyo conference.
Related News
Related News
Sign up to Receive Our Newsletter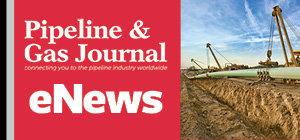 Pipeline Project Spotlight
Owner:
East African Crude Oil Pipeline Company
Project:
East African Crude Oil Pipeline (EACOP)
Type:
TotalEnergies in discussions with a Chinese company after Russian supplier Chelpipe was hit by sanctions.
Length:
902 miles (1,443 km)
Capacity:
200,000 b/d
Start:
2022
Completion:
2025