Wary of 2022 Crisis, Asian Buyers to Build Strategic Gas Reserves
7/20/2023
(Reuters) — Governments across Asia are formulating strategic natural gas reserve policies, building new terminals and storage tanks as buffers against supply disruptions following last year's energy crisis that sent global prices soaring to a record high.
The push to develop storage illustrates that Asian gas consuming nations are taking steps to avoid repeating the pitfalls that arose from last year's crisis, which left buyers flatfooted in their response to the surging prices.
Liquefied natural gas (LNG) in Asia climbed to a record $70 per million British thermal units (MMBtu) in August as Russian cuts in pipeline gas to Western Europe after its Ukraine invasion caused a spike in European LNG imports. As a result, Asian countries turned to coal and oil to generate power instead of gas.
RELATED: Senate Backs Amendment Banning US Strategic Oil Reserve Sales to China
With the pain still fresh and as prices have slipped to $10/MMBtu, countries including Japan and India indicated this week that they will build strategic gas reserves for energy security.
Japanese Industry Minister Yasutoshi Nishimura said on Tuesday the world's biggest LNG importer will launch an LNG reserve system this year to secure gas resources for "unexpected situations."
The reserve would be similar to Japan's Strategic Petroleum Reserve, which is among the world's largest.
Japan's Ministry of Economy, Trade and Industry (METI) is currently selecting companies which would buy and store LNG - with volumes equivalent to at least one tanker a month - from December to February, when heating demand typically increases, a ministry official told Reuters.
An LNG tanker can carry about 70,000 metric tons of LNG.
In the event of a supply disruption, METI will direct the companies to sell the stored gas to local utilities, he added.
In the longer run, Japan aims to keep about one LNG cargo per month, or 12 cargoes a year, as reserve via a term contract, the official said.
In India, the chairman of the Petroleum and Natural Gas Regulatory Board said earlier this month that the country should build natural gas storage so suppliers can accumulate stocks when prices are low.
This would help meet industrial demand, boost gas usage and hedge against global price volatility.
India is studying various options including the use of abandoned gas wells and underground storage, oil secretary Pankaj Jain said on Tuesday. India has also reached out to a few firms to help build its gas storage, he added.
Asian countries might have been considering gas or LNG storage for some time and while South Korea has built ample LNG storage, Japan has not, "so the gas crisis last year really brought the matter of total LNG storage capacity into the picture," said Alex Siow, lead Asia gas and LNG analyst at pricing agency ICIS.
More Facilities
In early July, China's state-owned CNOOC completed the construction of storage tanks for phase two of a planned 10-billion-cubic-metres (Bcm) gas storage facility in Guangdong province, according to state-backed media Global Times.
China's state planner also announced in March last year a target to more than double its gas and LNG storage capacity to 55-60 Bcm by 2025, or 13% of total gas consumption.
South Korea and Taiwan, respectively the world's No. 3 and 4 LNG importers, are building new terminals and storage facilities to boost stockpiles.
State energy firm CPC Corp currently holds about 11 days of Taiwan's gas consumption in stocks. This will be increased to at least 14 days in 2027, the Ministry of Economic Affairs said on Friday. It added that the government was "continuing to plan the construction" of receiving stations and storage tanks.
Taiwan is expected to complete constructing a third LNG terminal off the coast of Taoyuan in mid-2025, and has proposed a fourth one for Keelung, a port city north of Taipei, which is undergoing an environmental assessment.
South Korea is building a sixth LNG storage facility in the western port city of Dangjin.
The country maintains nine days' worth of LNG winter usage as emergency reserves and keeps an undisclosed "large amount" of gas in storage in addition to the reserves, said a South Korean official with direct knowledge of the matter.
Related News
Related News
Sign up to Receive Our Newsletter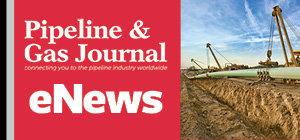 Pipeline Project Spotlight
Owner:
East African Crude Oil Pipeline Company
Project:
East African Crude Oil Pipeline (EACOP)
Type:
TotalEnergies in discussions with a Chinese company after Russian supplier Chelpipe was hit by sanctions.
Length:
902 miles (1,443 km)
Capacity:
200,000 b/d
Start:
2022
Completion:
2025