Wintershall Dea CEO Says Exiting Russia Gets Harder by the Day
7/27/2023
(Reuters) — Wintershall Dea's exit from Russia, announced in January, is proving increasingly difficult in an unpredictable business and political environment, Mario Mehren, CEO of the oil and gas producer, said on Thursday.
"New obstacles to exit are being created on a daily basis," he said after reporting second quarter financial results.
Wintershall's ties to Russia, including a stake in the Nord Stream gas pipeline that shipped gas directly from Russia to Germany, are deep.
Gas remains one of Russia's major sources of income and Mehren said Moscow was unlikely to take control of foreign energy companies in the way it took over food company Danone for instance.
"The assets we have shareholdings in were declared to be strategic," Mehren said.
Analysts say Russia still needs access to Western energy expertise and would not want to deter possible future energy partners.
Mehren said all Russian activities, which had previously accounted for half its production, were financially deconsolidated, but a complete withdrawal was difficult.
The obstacles ranged from approval processes for valuation requirements to the Russian government's consideration of veto rights on the sale of strategic assets.
Wintershall Dea was looking into ways to recover at least some of the damages incurred, including arbitration and legal claims.
But he said the only way it could contact the Russian government to make a claim was by sending a letter.
Discussions were meanwhile taking place with Gazprom over a contractual sales process, but Mehren said he could not give a date for winding up the Saint Petersburg office or leaving Siberian gas fields Yuzhno Russkoye and Achimov.
Mehren ruled out selling the Russian assets to Wintershall Dea minority shareholder Mikhail Fridman, owner of the investment firm LetterOne, because he is subject to Western sanctions.
Wintershall's majority shareholder BASF, which had to take a severe write down after Russian decrees cut the price at which Wintershall Dea can supply Kremlin-controlled Gazprom, is seeking to exit Wintershall Dea.
Wintershall Dea's board member for Russia and other regions, Thilo Wieland, resigned in May with no replacement, as the company began pursuing growth elsewhere.
Related News
Related News
Sign up to Receive Our Newsletter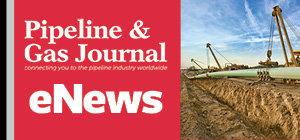 Pipeline Project Spotlight
Owner:
East African Crude Oil Pipeline Company
Project:
East African Crude Oil Pipeline (EACOP)
Type:
TotalEnergies in discussions with a Chinese company after Russian supplier Chelpipe was hit by sanctions.
Length:
902 miles (1,443 km)
Capacity:
200,000 b/d
Start:
2022
Completion:
2025