Explainer: Black Sea Grain Deal Could Hinge on Ammonia Pipeline
6/6/2023
(Reuters) — A possible extension next month of a deal allowing the safe wartime export of grains and fertilizers from three Ukrainian Black Sea ports could hinge on the reopening of a pipeline that delivers Russian ammonia to one of those Ukrainian ports.
The Deals
The United Nations and Turkey brokered the Black Sea Grain Initiative for an initial 120 days last July to help tackle a global food crisis worsened by Moscow's invasion of Ukraine, one of the world's leading grain exporters. It has been extended three times since, most recently until July 17.
More than 31 million tonnes of mostly corn and wheat have been exported by Ukraine under the deal. The Black Sea Grain Initiative also allows for the safe export of ammonia - a key ingredient in nitrate fertilizer - but none has been shipped.
To convince Russia to agree to the Black Sea Grain Initiative, a three-year pact was also struck last July in which the United Nations agreed to help Moscow overcome any obstacles to its own food and fertilizer shipments.
While Russian exports of food and fertilizer are not subject to Western sanctions imposed after the February 2022 invasion of Ukraine, Moscow says restrictions on payments, logistics and insurance have amounted to a barrier to shipments.
Ammonia
A pipeline used by Russia to pump up to 2.5 million tonnes of ammonia annually for global export to Ukraine's Pivdennyi port on the Black Sea from Togliatti on the Volga River in western Russia has been shut down since Moscow's invasion of Ukraine.
It is the world's longest ammonia pipeline at about 2,470 kilometres (1,534 miles) in length, according to the International Energy Agency.
Ukrainian authorities have said workers would need about 30 days to prepare the pipeline to pump ammonia again.
Ukraine
The Black Sea Grain Initiative covers the "safe navigation for the export of grain and related foodstuffs and fertilizers, including ammonia" from the Ukrainian Black Sea ports of Odesa, Chornomorsk and Pivdennyi, known in Russian as Yuzhny.
Ukraine has argued that the language of the deal does not cover the transit of Russian ammonia across Ukraine. A Ukrainian government source told Reuters that Kyiv would consider restarting the pipeline in exchange for an expansion of the Black Sea grain deal to include more ports and commodities.
Russia
Russia said the transit of ammonia "although not spelled out literally, is implied by the logic of the agreement." Moscow has said it was "ready without delay, in a matter of days" to restart the ammonia pipeline.
Until the ammonia pipeline is restarted, Moscow has said it will limit the number of vessels allowed to travel to Pivdennyi port under the Black Sea deal, the U.N. said.
U.N. data shows no ships have visited Pivdennyi port for more than three weeks.
Under the Black Sea Grain Initiative a joint coordination centre in Istanbul made up of officials from Ukraine, Russia, Turkey and the U.N. agrees on the ships to be registered and conducts inbound and outbound inspections in Turkish waters.
U.N. Proposal to Restart Ammonia Pipeline
In September, Reuters reported that the United Nations proposed that ammonia gas owned by Russian fertilizer producer Uralchem be brought via pipeline to the Russia-Ukraine border.
At the border it would be purchased by U.S.-headquartered commodities trader Trammo, according to the proposal. Trammo has been approached by the United Nations to assist in this project and is happy to cooperate, it said in an emailed statement.
The United Nations has consistently pushed for the reopening of the ammonia pipeline.
Reuters reported last week that the U.N. proposed that Kyiv, Moscow and Ankara start preparatory work on restarting the pipeline, while conducting parallel talks to broaden the Black Sea deal to include more Ukrainian ports and other cargoes.
Related News
Related News
Sign up to Receive Our Newsletter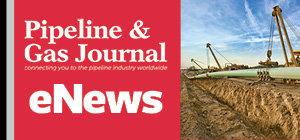 Pipeline Project Spotlight
Owner:
East African Crude Oil Pipeline Company
Project:
East African Crude Oil Pipeline (EACOP)
Type:
TotalEnergies in discussions with a Chinese company after Russian supplier Chelpipe was hit by sanctions.
Length:
902 miles (1,443 km)
Capacity:
200,000 b/d
Start:
2022
Completion:
2025