US Crude Oil Exports to Gain Tail Winds from Saudi July Output Cut
6/5/2023
(Reuters) — U.S. crude oil exports, already running close to a record level hit in March, should get a further boost next month from deep production cuts in Saudi Arabia, analysts said on Monday, noting that this will also further deplete U.S. crude inventories, which have been hovering near historic lows.
Saudi Arabia, de facto leader of oil producer group OPEC, said on Sunday it would drop its production by about 10%, or 1 million barrels per day (bpd), to 9 million bpd in July. It said it might sustain the cut to support oil prices that have dropped due to worries about a potential economic recession.
The move opens the door for modest gains in U.S. and Latin American shipments to Europe and Asia, analysts said, and gives U.S. producers new confidence that Saudi Arabia will provide a price floor should a recession clip demand.
"This could and should incentivize higher U.S. exports, which were looking like they would be under downward pressure given the looming peak of summer refining activity," said Matt Smith, an oil analyst at data provider Kpler.
U.S. oil exports touched a record 4.5 million bpd in March with China's growing oil purchases and competitive U.S. pricing lifting demand. The exports are about a third of U.S. production, even as the country's crude oil stocks are down near the low levels recorded at 815 million barrels.
Saudi Arabia's willingness to deepen its output cuts — after an earlier 500,000 bpd trim effective in May — will dig into the Kingdom's exports, which typically fall in summer.
"It's significant that they cut in summer (when) Saudi domestic demand is at a peak. To me, it says they'll cut exports," said Paul Sankey, an independent analyst at Sankey Research in New York.
U.S. oil benchmark CLc1 and global Brent benchmark each climbed about $1 per barrel on the news. Brent LCOc1 traded at about $77.28 on Monday, below the about $80 per barrel that Saudi Arabia needs to fund its government budget.
U.S. shale oil production has been inching higher all year and is forecast to hit 5.71 million bpd this month. But its relatively slow rate of growth has left the U.S. largely out of OPEC's calculations for the latest cuts.
OPEC's "decision supports some modest price increase near term and may bring that long term increase forward a bit," said Mike Oestmann, chief executive of Tall City Exploration, a Texas shale firm. "But the near-term impact (on drilling) is moderate at best," he added.
Uncertainty around Russia's output and exports, high freight rates and a narrow spread between WTI and Brent prices that weakened the economics of shipping U.S. crude abroad in the last couple of months could, however, limit exports.
Related News
Related News
Sign up to Receive Our Newsletter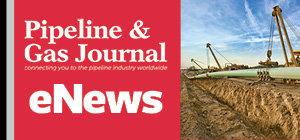 Pipeline Project Spotlight
Owner:
East African Crude Oil Pipeline Company
Project:
East African Crude Oil Pipeline (EACOP)
Type:
TotalEnergies in discussions with a Chinese company after Russian supplier Chelpipe was hit by sanctions.
Length:
902 miles (1,443 km)
Capacity:
200,000 b/d
Start:
2022
Completion:
2025