Williams to Complete Two US Natural Gas Pipeline Projects on Time in Q4 2024
6/8/2023
[Editor's note: This story has been updated from a previous version posted on June 8.]
(Reuters) — U.S. energy company Williams Cos Inc. is on track to complete two natural gas pipeline projects in New Jersey and Louisiana on time by the end of 2024, the company's CEO Alan Armstrong told Reuters at the Reuters Global Energy Transition conference on Wednesday.
Armstrong said the first phase of the 0.83-billion cubic feet per day (Bcf/d) Regional Energy Access expansion in New Jersey, Pennsylvania and Maryland would provide about half the project's gas to customers in the fourth quarter of 2023.
The Regional Energy Access expansion has been designed to minimize environmental impacts by maximizing the use of existing Transco infrastructure and rights of way, the company said. The preliminary design of the project consists of additional compression and selected new loop segments along the existing Transco corridor.
The expansion project it distinguishes itself from other greenfield pipeline proposals by emphasizing the utilization of current energy infrastructure.
It will involve the establishment of a new electric motor-driven compressor facility (Station 201) in Gloucester County, New Jersey, along with the construction of a 22.3-mile, 30-inch pipe lateral in Luzerne County, Pennsylvania, and a 13.8-mile, 42-inch pipe loop in Monroe County, Pennsylvania.
Furthermore, modifications will be made to existing compressor facilities, including Station 505 in Somerset County and Station 207 in Middlesex County in New Jersey. In Pennsylvania, Station 515 in Luzerne County, Station 195 in York County and Station 200 in Chester County will be modified. Additionally, adjustments will be implemented at existing meter stations to support the project's objectives.
He said the second phase was on track to enter service in late 2024. The company estimated the total cost of Regional Energy Access at close to $1 billion.
In June 2022, Williams announced that it reached a final investment decision (FID) to build its proposed Louisiana Energy Gateway (LEG) project to gather natural gas produced in the Haynesville shale basin.
The project is set to move 1.8 billion cubic feet per day (Bcf/d) of gas to several Gulf Coast markets, including its Transco gas pipe from Texas to the U.S. Northeast, industrial consumers and LNG export plants.
RELATED: Williams to Move Forward with Louisiana Natural Gas Project in Haynesville Basin
Armstrong said Williams was also on track to complete the Louisiana Energy Gateway project in Louisiana and Texas in the fourth quarter of 2024.
Louisiana Energy Gateway will provide producers in the Haynesville shale in Arkansas, Louisiana and Texas with more access to the growing number of LNG export plants on the U.S. Gulf Coast.
"We've been working towards buying our own ... LNG capacity, which we will then turn and parcel out to our producing customers," Armstrong said.
Armstrong said a lot of Williams' gas producer customers want to participate in global markets in Europe TRNLTTFMc1 and Asia JKMc1 where gas is selling for around $8 per million British thermal units (MMBtu) versus just about $2 at the U.S. Henry Hub benchmark in Louisiana.
In 2022, Williams announced a non-binding agreement to take about 3 million tonnes per annum of capacity in Sempra Energy's Port Arthur LNG export plant in Texas.
"There are still opportunities between us and Sempra but there are other opportunities that we have identified that will be announced ahead of anything with Sempra," Armstrong said.
He did not name the other opportunities.
Related News
Related News
Sign up to Receive Our Newsletter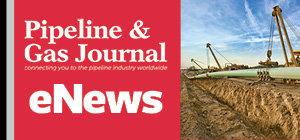 Pipeline Project Spotlight
Owner:
East African Crude Oil Pipeline Company
Project:
East African Crude Oil Pipeline (EACOP)
Type:
TotalEnergies in discussions with a Chinese company after Russian supplier Chelpipe was hit by sanctions.
Length:
902 miles (1,443 km)
Capacity:
200,000 b/d
Start:
2022
Completion:
2025