Alaska's Qilak LNG Targets Asia with $5 Billion Project to Compete with Russia
3/8/2023
(Reuters) — Qilak LNG plans to invest $5 billion in a proposed LNG facility in Alaska's North Slope to compete with Russia's Yamal project for Asian customers towards the end of this decade, its chief executive said.
Major LNG importers such as Japan, South Korea and Taiwan are rethinking Russian supplies after sanctions on Moscow after it invaded Ukraine and more natural gas could be needed to produce lower emission and alternative fuels as nations try to reduce their carbon emissions.
Qilak is 2,000 nautical miles (3,700 km) closer to Asian markets than its biggest competitor, the Novatek-led Yamal LNG in the Russian Arctic. The Alaskan projects aims to ship an LNG cargo to Asia in 14 days, about twice as fast as shipments from the U.S. Gulf Coast, Mead Treadwell, Qilak's CEO and chairman, told Reuters in an interview this week.
"This project could open up a whole new province of supply for LNG, ammonia and hydrogen... There are geopolitical advantages and diversifying Arctic gas supplies away from Russia is generally a well-received concept," Treadwell said.
The company is banking on producing LNG at a lower cost compared with Yamal LNG.
Yamal LNG, which shipped its first cargo in 2017, cost $27 billion to liquify 16.5 million tonnes of LNG per annum, company data shows. That is about $1.6 billion per 1 million tonnes, according to Reuters calculations.
Qilak's annual output is set to be 4 million tonnes and at a cost of $5 billion, should be $1.3 billion per tonne, according to Reuters calculations.
Qilak LNG is working with Lazard as investment bank to attract financing and also plans to offer an ownership stake to Alaska entities including indigenous investment groups, said Treadwell, a former Alaska governor.
"We are speaking to potential investors inside and outside Japan, as well as firms that can help us reduce the carbon footprint of the project," he said, without providing further details.
The project, equal to 1% of global LNG demand, should be launched by 2030 when potential buyers see a shortage coming up, a delay from 2027 because of the COVID-19 pandemic, Treadwell said.
"We are focusing on the northeast Asian market – there are countries beyond the north-east Asia who are considering involvement to step up their LNG purchases," he said, adding that Japan's current and future LNG receiving terminals could be also used for transshipment further.
Qilak LNG is yet to chose engineering, procurement and construction, as well as shipping companies, but Nana Worley and Aker Arctic Technology are expected to lead the feasibility study, Treadwell said.
"If we stay on schedule then the feasibility study would be done this year and with front-end engineering design in 2024," he said, adding that a final investment decision is possible in 2025, depending on a number of conditions.
The project plans to use gravity-base structures — special weighted legs that support offshore platforms — set off the Arctic shore of Alaska and would deliver three to five tankers per month to Asia, according to Dubai-based Lloyds Energy, the project's owner.
It plans to use the Arc7 type of LNG tankers able to seal in the Arctic waters, the same ones Yamal operates, Treadwell said.
Related News
Related News
Sign up to Receive Our Newsletter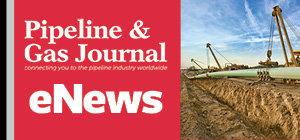 Pipeline Project Spotlight
Owner:
East African Crude Oil Pipeline Company
Project:
East African Crude Oil Pipeline (EACOP)
Type:
TotalEnergies in discussions with a Chinese company after Russian supplier Chelpipe was hit by sanctions.
Length:
902 miles (1,443 km)
Capacity:
200,000 b/d
Start:
2022
Completion:
2025