Capstone Green Energy Secures Microturbine Order for Wyoming Gas Compression Facility
3/24/2023
(P&GJ) — Capstone Green Energy Corp., a global leader in carbon reduction and on-site resilient green energy solutions, announced that Horizon Power Systems has secured a follow-on order for two Capstone C1000 Signature Series microturbines.
The order is scheduled to be commissioned during the third quarter of 2023.
"Capstone microturbines create loyal customers, and this order is a great example. This customer has been using Capstone Green Energy microturbine technology since 2010, and continues to return for additional systems," Darren Jamison, president and CEO of Capstone Green Energy, said. "They have implemented our low emission systems at multiple, remote, unstaffed facilities across their operations in Wyoming. Capstone microturbines continue to deliver reliable, low-emission power where the customer needs it most."
The microturbine will power a remote natural gas compression facility and run on high-pressure natural gas (HPNG). The customer indicated that it selected Capstone based on its ongoing, positive experiences with Capstone products. Their current equipment has operated continuously for several years, despite being subjected to harsh conditions and extreme weather events.
"The customer's current fleet of 15 microturbines have an average 99% uptime," Sam Henry, president of Horizon Power Systems, said. "The company knows the reliability and low maintenance of microturbine-based energy systems. Even with the catastrophic storms that have rolled through the Basin this year, the microturbine fleet has maintained its near-perfect uptime. Capstone microturbines meet Wyoming's stringent air quality rules and make permitting very easy."
Related News
Related News
Sign up to Receive Our Newsletter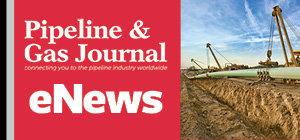 Pipeline Project Spotlight
Owner:
East African Crude Oil Pipeline Company
Project:
East African Crude Oil Pipeline (EACOP)
Type:
TotalEnergies in discussions with a Chinese company after Russian supplier Chelpipe was hit by sanctions.
Length:
902 miles (1,443 km)
Capacity:
200,000 b/d
Start:
2022
Completion:
2025