EIA: US Natural Gas Output to Hit Record High in 2023, Demand to Fall
3/7/2023
(Reuters) — U.S. natural gas production will rise to a record high in 2023 while demand will fall, the U.S. Energy Information Administration (EIA) said in its Short Term Energy Outlook (STEO) on Tuesday.
The statistical arm of the U.S. Department of Energy projected dry gas production would rise to 100.67 billion cubic feet per day (Bcf/d) in 2023 and 101.69 Bcf/d in 2024 from a record 98.09 Bcf/d in 2022.
The EIA also projected domestic gas consumption would fall to 86.40 Bcf/d in 2023 and 86.06 Bcf/d in 2024 from a record 88.54 Bcf/d in 2022.
If correct, 2024 would be the first time since 2015 that output rises for four years in a row. It would also be the first-time demand declines for two years in a row since 2006.
The EIA projected gas consumption would average 99 Bcf/d in the first quarter of 2023, the least for any first quarter since 2018.
That is because the weather in January and February was among the warmest on record, the EIA said, keeping demand for gas for heating low.
The latest projections for 2023 were higher than the EIA's February forecast of 100.27 Bcf/d for supply, but lower than its February forecast of 87.04 Bcf/d for demand.
The agency forecast that average U.S. LNG exports would reach 12.07 Bcf/d in 2023 and 12.73 Bcf/d in 2024, up from a record 10.59 Bcf/d in 2022.
That 2023 LNG forecast was higher than the 11.78 Bcf/d EIA forecast in February.
As gas demand eases and power producers burn less coal, the EIA projected that carbon dioxide emissions from fossil fuels would fall from 4.976 billion tonnes in 2022 to 4.799 billion tonnes in 2023 before rising to 4.829 billion tonnes in 2024 as the country burns more oil.
Related News
Related News
Sign up to Receive Our Newsletter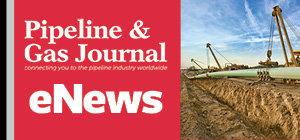 Pipeline Project Spotlight
Owner:
East African Crude Oil Pipeline Company
Project:
East African Crude Oil Pipeline (EACOP)
Type:
TotalEnergies in discussions with a Chinese company after Russian supplier Chelpipe was hit by sanctions.
Length:
902 miles (1,443 km)
Capacity:
200,000 b/d
Start:
2022
Completion:
2025