TotalEnergies' Bet on Gas Means No Big Emissions Cut by 2030
3/22/2023
(Reuters) — French oil major TotalEnergies forecasts its overall greenhouse gas emissions will not see a big reduction by 2030 given it wants to grow its gas business, executives said in an update on its climate strategy on Tuesday.
TotalEnergies plans to boost its LNG output by 40% this decade.
Chief Executive Patrick Pouyanne said the company should not be held accountable for its customers' combustion of fuels it sells, adding that when TotalEnergies sells gas to replace more polluting coal, this was a net positive for the climate.
End-user emissions, referred to as Scope 3, stood at 389 million tonnes CO2e last year and TotalEnergies' forecasts this metric to broadly stagnate and stand at less than 400 million tonnes CO2 equivalent (CO2) by 2030.
Scientists say the world needs to cut greenhouse gas emissions by around 43% by 2030 from 2019 levels to have any hope of meeting the Paris Agreement goal of keeping global warming well below 2 degrees Celsius above pre-industrial levels.
"(Regarding) the volume of Scope 3, we put 400 million (...) but we did not lower that target because we don't consider that we have an impact on some of it," Pouyanne said.
TotalEnergies aims to reduce emissions from its oil products by 40% in 2030 from 2015 levels, increasing its reduction target from the 30% announced last year.
"The net takeaway is that even when our gas-related Scope 3 emissions go up, the world is better off," said the company's Strategy and Sustainability chief Helle Kristoffersen, echoing Pouyanne's point on replacing coal.
In comparison, rival BP plans to cut its well-to-combustion greenhouse gases, including Scope 3 emissions from all fuels derived from its oil and gas output, by 20-30% in absolute terms by 2030 compared with 2019.
Shell has ruled out setting any absolute Scope 3 emissions reduction target.
Meanwhile, TotalEnergies plans to reduce the emissions intensity of the fuels it sells by 25% by 2030 from 2015 levels.
This compares with an emissions intensity reduction target of 15-20% by BP from a 2019 level and 20% versus 2016 by Shell.
Measuring emissions performance by intensity means a company can technically increase its fossil fuel output and overall emissions while using offsets or carbon capture and adding renewable energy or biofuels to its product mix.
Related News
Related News
Sign up to Receive Our Newsletter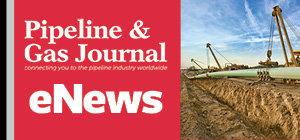 Pipeline Project Spotlight
Owner:
East African Crude Oil Pipeline Company
Project:
East African Crude Oil Pipeline (EACOP)
Type:
TotalEnergies in discussions with a Chinese company after Russian supplier Chelpipe was hit by sanctions.
Length:
902 miles (1,443 km)
Capacity:
200,000 b/d
Start:
2022
Completion:
2025