US Intelligence Suggests Pro-Ukrainian Group Sabotaged Nord Stream Pipelines -NYT
3/7/2023
(Reuters) — New intelligence reviewed by U.S. officials suggests that a pro-Ukrainian group, likely comprised of Ukrainian or Russian nationals, carried out the attack on the Nord Stream energy pipelines last year, but the intelligence reached no firm conclusions, the New York Times reported on Tuesday.
There was no evidence that Ukrainian President Volodymyr Zelenskiy or other Ukrainian government officials were behind the explosions and natural gas leaks in the Baltic Sea, the newspaper reported, citing U.S. officials.
Reuters could not independently verify the report.
White House spokesperson John Kirby told reporters on Tuesday that Washington was waiting for ongoing investigations in Germany, Sweden and Denmark to conclude.
"We do believe, and the president has said this, that it is an act of sabotage. But we need to let these investigations conclude and only then should we be looking at what follow-on actions might or may not be appropriate," Kirby said.
Germany said on Tuesday it had taken note of the New York Times report but that its own investigation had not yet produced results.
A senior aide to Zelenskiy, Mykhailo Podolyak, said on Tuesday that Kyiv was "absolutely not involved" in the blasts and has no information about what happened. Representatives for Moscow could not be immediately reached.
The United States and NATO have called the Sept. 26, 2022 attacks on the pipelines "an act of sabotage," while Moscow has blamed the West. Neither side has provided evidence.
Built by Russia's state-controlled Gazprom, the Nord Stream pipelines were built to carry natural gas from Russia to Germany under the Baltic Sea. But due to frictions between Russia and the European Union over Moscow's invasion of Ukraine, Nord Stream was not operating when the explosions destroyed three of the four pipelines.
Representatives for Gazprom also did not immediately respond to a request for comment.
Opposition To Putin
The intelligence review suggests those who carried out the attacks opposed Russian President Vladimir Putin "but does not specify the members of the group, or who directed or paid for the operation," the Times wrote.
"U.S. officials declined to disclose the nature of the intelligence, how it was obtained or any details of the strength of the evidence it contains. They have said that there are no firm conclusions about it," it added, citing the unnamed officials.
"Officials who have reviewed the intelligence said they believed the saboteurs were most likely Ukrainian or Russian nationals, or some combination of the two. U.S. officials said no American or British nationals were involved," according to the Times report.
Russia last month proposed a draft resolution to the 15-member U.N. Security Council which, if approved, would call for an international probe to identify who was responsible.
Russia's Deputy U.N. Ambassador Dmitry Polyanskiy said the New York Times report "only proves that our initiative on launching an international investigation under the auspices of the U.N. Secretary-General is very timely."
"By the end of March there definitely will be a vote," Polyanskiy told Reuters on Tuesday.
In the year since the invasion, Europe has drastically cut its energy imports from Russia. Moscow this week called for all Nord Stream stakeholders to decide its fate.
German energy company E.ON, one of the shareholders of Nord Stream, declined to comment. The explosions occurred in international waters within the economic zones of Denmark and Sweden.
Related News
Related News
Sign up to Receive Our Newsletter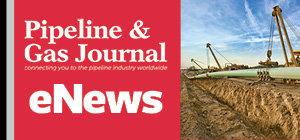 Pipeline Project Spotlight
Owner:
East African Crude Oil Pipeline Company
Project:
East African Crude Oil Pipeline (EACOP)
Type:
TotalEnergies in discussions with a Chinese company after Russian supplier Chelpipe was hit by sanctions.
Length:
902 miles (1,443 km)
Capacity:
200,000 b/d
Start:
2022
Completion:
2025