Comet Ridge, Jemena Ink Deal for Mahalo North Gas Pipeline
5/22/2023
(P&GJ) — Comet Ridge Ltd. has signed a memorandum of understanding (MOU) and pre-FEED agreement with Jemena Ltd. to evaluate a new gas pipeline connection from Comet Ridge's Mahalo North development to the Rolleston compressor station for entry into Queensland's domestic gas network.
Under the MOU and associated pre-FEED agreement, Jemena will immediately undertake a pre-FEED study of a Jemena-owned and operated high-pressure gas transmission pipeline of approximately 73 km (45 miles) from the Mahalo North Gas Project to Jemena's Queensland Gas Pipeline (QGP).
In November 2022, Comet Ridge announced the independent certification of 43 Petajoules of 2P Reserve and 110 Petajoules of 3P Reserve of natural gas for Mahalo North, following the highly successful pilot production test which achieved a very strong gas flow rate of 1.75 million cubic feet per day. Comet Ridge plans to move these gas reserves into production as quickly as possible, leveraging the newly formed partnership with Jemena to provide the necessary infrastructure route to market.
Such infrastructure would also unlock value in Comet Ridge's other 100% owned acreage, including Mahalo East, where the company has independently certified 31 Petajoules of 2C and 122 Petajoules of 3C Contingent Resource. The pre-FEED study will initially focus on delivering Comet Ridge with a pipeline connection from Mahalo North to the QGP for a minimum of 25 terajoules per day of gas supply to the domestic market.
"Jemena's gas pipeline would take a southerly route direct into Jemena's own QGP, which gives us direct access to both Gladstone and Wallumbilla markets," said Comet Ridge Managing Director Tor McCaul. "This gas production would have a slightly later start date but would allow a larger volume of Comet Ridge gas into the domestic gas market, allowing our other projects, at Mahalo East and Mahalo Far East, to feed in sequentially. Jemena has the balance sheet, experience and expertise to be able to deliver this project quickly and efficiently, as it did with Senex on the Atlas development."
Prior to finalization of the studies and commencement of construction, the parties will explore opportunities to optimize the pipeline size to accommodate a much larger volume of gas from the entire Mahalo Gas Hub area.
Related News
Related News
Sign up to Receive Our Newsletter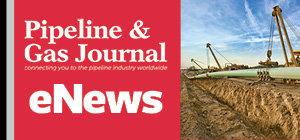 Pipeline Project Spotlight
Owner:
East African Crude Oil Pipeline Company
Project:
East African Crude Oil Pipeline (EACOP)
Type:
TotalEnergies in discussions with a Chinese company after Russian supplier Chelpipe was hit by sanctions.
Length:
902 miles (1,443 km)
Capacity:
200,000 b/d
Start:
2022
Completion:
2025