DOE Selects Crescent Midstream-Supported Project to Advance Commercial-Scale CO2 Storage
5/9/2023
(P&GJ) — The U.S. Department of Energy (DOE) has selected a Crescent Midstream-supported carbon sequestration project off the coast of Louisiana to help demonstrate the feasibility of transporting and permanently storing CO2 on a commercial scale.
The project is one of the largest offshore CO2 storage projects in the United States. It is expected to hold up to 300 million tonnes of CO2 that would otherwise be emitted on the Gulf Coast of Louisiana.
As part of the project, Crescent will apply its extensive onshore and offshore pipeline construction and operations experience to demonstrate the safe transport of CO2 from emitters to permanent underground storage.
The company plans to repurpose an existing 110-mile pipeline corridor it owns and operates, positioning Crescent to become one of the first full-service midstream solutions for CCS while also reducing the initiative's carbon footprint. In addition to Crescent, the project is a collaboration of Cox Operating and its affiliate Carbon Zero US LLC, Repsol, Crescent Resource Innovation, the Southern States Energy Board (SSEB), Louisiana State University and Southern University at Shreveport.
"Corporate sustainability is a core value at Crescent Midstream," Jerry Ashcroft, CEO of Crescent Midstream, said. "We are proud to apply our pipeline expertise to this project and create the vital connection between carbon dioxide emitters and permanent underground storage. Large-scale carbon capture and sequestration has enormous potential to reduce greenhouse gas emissions and we look forward to helping demonstrate that off the Louisiana Gulf Coast." 
The DOE is supporting the project, officially known as the Louisiana Offshore CO2 Hub Repurposing Infrastructure to Decrease Greenhouse Emissions (Project Lochridge), through its CarbonSAFE program. CarbonSAFE was created to advance projects that help address the technical challenges of capturing CO2 from power plants and industrial facilities or directly from the atmosphere and increase the number of storage sites progressing toward commercial operation.
This project builds on Crescent's ongoing commitment to corporate sustainability. The firm recently agreed to sponsor oil well plugging and site restoration in Louisiana, conducted by the Well Done Foundation (WDF). The foundation stops orphaned oil wells from discharging methane emissions, a gas that is more than 25 times as potent as carbon dioxide at trapping heat in the atmosphere. 
Crescent also has completed marsh preservation projects to mitigate coastal erosion in areas that have been impacted by inclement weather events to both protect and rebuild those areas and maintain long-term operations. In addition, Crescent is actively involved in community outreach in Southern Louisiana and supports numerous organizations that drive a positive social impact within its operating footprint.
Related News
Related News
Sign up to Receive Our Newsletter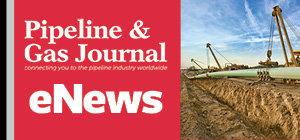 Pipeline Project Spotlight
Owner:
East African Crude Oil Pipeline Company
Project:
East African Crude Oil Pipeline (EACOP)
Type:
TotalEnergies in discussions with a Chinese company after Russian supplier Chelpipe was hit by sanctions.
Length:
902 miles (1,443 km)
Capacity:
200,000 b/d
Start:
2022
Completion:
2025