Enterprise Products' Oil Pipeline Volumes Rise on Permian Basin Output Growth
5/2/2023
(Reuters) — Enterprise Products Partners' first-quarter crude oil pipeline volumes edged slightly higher, the pipeline and storage company said on Tuesday, helped by production growth in the top U.S. shale basin.
Enterprise has remained bullish on oil production from the Permian basin, spread across Texas and New Mexico, and is looking to build a crude oil export terminal on the Gulf Coast to help push some of those barrels into the foreign market.
"Across our integrated system we continue to see crude oil, natural gas and NGL production growth from the Permian Basin," said Jim Teague, the company's co-chief executive officer, adding that domestic and international demand for U.S. energy and energy products remains resilient.
Total crude oil pipeline transportation volumes rose to 2.3 million barrels per day (bpd) in the three months to March 31, up from 2.2 million bpd a year earlier, the company said.
Crude oil marine terminal volumes rose 5.7% to 841,000 bpd.
However, gross operating margin from its crude oil pipelines and services segment eased 4.3% to $397 million in the first quarter, partly due to expiration of minimum volume commitments on a key pipeline as well as lower average transportation fees and higher operating costs on others.
Overall net income rose 6.8% to $1.4 billion, or 63 cents per share.
The quarterly results represent "a healthy start to 2023 earnings," wrote Tudor Pickering Holt & Co analyst Colton Bean, and "bodes well for EPD's unofficial target of $9.3 billion" in full-year earnings before interest, taxes, depreciation and amortization.
Natural gas transportation volumes increased to a record 18.0 trillion British thermal units per day (TBtupd) in the first quarter compared with 16.4 (TBtupd) for the same quarter last year.
Enterprise, however, warned that lower natural gas prices were beginning to temper activity and growth in dry natural gas plays such as the Haynesville and Eagle Ford.
Related News
Related News
Sign up to Receive Our Newsletter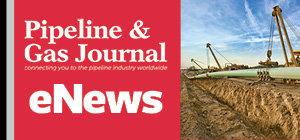 Pipeline Project Spotlight
Owner:
East African Crude Oil Pipeline Company
Project:
East African Crude Oil Pipeline (EACOP)
Type:
TotalEnergies in discussions with a Chinese company after Russian supplier Chelpipe was hit by sanctions.
Length:
902 miles (1,443 km)
Capacity:
200,000 b/d
Start:
2022
Completion:
2025