US Offers Oil, Gas Drilling Rights in First Auction Since Biden's IRA
5/24/2023
(Reuters) — The U.S. on Thursday will hold its first sale of oil and gas drilling rights on federal lands since passage of President Joe Biden's landmark climate change law, with more than 10,000 acres (40.5 square kilometers) on offer in New Mexico and Kansas.
The federal lease auction is just the second to be held in New Mexico, the nation's second-largest oil-producing state, since Biden became president in 2021.
Biden's Interior Department had attempted to suspend federal oil and gas leasing to study its environmental and climate impacts, but the Inflation Reduction Act that passed last year requires some oil and gas auctions if federal rights of way are offered for renewable energy projects.
It is a modest sale, by historical standards, with just 19 parcels on offer on 3,300 acres in New Mexico's portion of the Permian basin. The auction will include an additional 26 parcels on 6,800 acres in Cheyenne County, Kansas.
New Mexico crude oil production was about 20 times higher than that of Kansas last year, according to the U.S. Energy Information Administration.
The sale will be conducted by online auction platform EnergyNet beginning at 9:00 am CDT (1400 GMT).
Terms of the sale will reflect new IRA requirements including royalty rates of 16.67%, up from a prior 12.5%, and bids starting at $10 an acre compared with $2 an acre before passage of the law.
The development potential of the parcels in Kansas is estimated to be 1.53 million barrels of oil and 16.66 thousand cubic feet (mcf) of natural gas, according to a U.S. Bureau of Land Management (BLM) sale document.
In New Mexico, the acreage is projected to produce 3.2 million barrels of oil and 18.61 mcf of gas.
Several environmental groups filed protests that sought cancellation of the sale by BLM. Among other concerns, they said the Biden administration had failed to analyze mitigation efforts to address the impact of greenhouse gas emissions from development of the parcels.
An Interior Department spokesperson would not comment on the protests.
Related News
Related News
Sign up to Receive Our Newsletter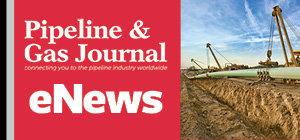 Pipeline Project Spotlight
Owner:
East African Crude Oil Pipeline Company
Project:
East African Crude Oil Pipeline (EACOP)
Type:
TotalEnergies in discussions with a Chinese company after Russian supplier Chelpipe was hit by sanctions.
Length:
902 miles (1,443 km)
Capacity:
200,000 b/d
Start:
2022
Completion:
2025