US Permian Natural Gas Flaring Could Rise in 2024, Report Shows
5/23/2023
(Reuters) — Natural gas flaring in the top U.S. shale basin is poised to increase next year, a report released on Tuesday projected, as the region's output exceeds available pipeline capacity.
Increased flaring, or the burning of unwanted gas, could reduce shale oil production in the region as major oil producing companies seek to limit climate-warming carbon dioxide emissions.
The Permian is the biggest U.S. shale oil basin, pumping 5.7 million barrels of oil per day and 22.5 billion cubic feet per day (bcfd) of natural gas, productivity estimates by the U.S. Energy Information Administration (EIA) show.
Companies need to move that gas to market (or burn or reinject it) to sustain oil production.
"In an ideal world, (gas pipeline) infrastructure would stay ahead of supply growth, but for both commercial and regulatory reasons, production-limiting constraints can occur," said Justin Carlson, chief commercial officer at energy consulting firm East Daley Analytics.
East Daley and Validere, a measurement, reporting, and verification firm, estimated pipeline takeaway capacity will fall short of gas production by an average of 200 million cubic feet per day (MMcf/d) in 2023 and the first half of 2024, before rising to about 500 MMcf/d in May 2024.
East Daley said the shortfall could "spike dramatically" if some gas pipelines under construction are delayed.
Pipes being laid in the Permian include the 500-MMcf/d Whistler and 550-MMcf/d Permian Highway expansions expected in service in late 2023, and the 2.5-bcfd Matterhorn Express Pipeline in mid-2024.
Larger Permian oil and gas producers such as Exxon Mobil Corp., ConocoPhillips. and Chevron Corp., would likely "manage infrastructure constraints by delaying completions or shutting in production rather than flaring," the report said.
The total amount of U.S. gas flared and vented, or released into the atmosphere, fell to a four-year low of around 785 MMcf/d in 2021, which was about 0.7% of the gross amount of gas withdrawn that year, the most recent EIA data available shows.
Related News
Related News
Sign up to Receive Our Newsletter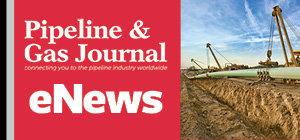 Pipeline Project Spotlight
Owner:
East African Crude Oil Pipeline Company
Project:
East African Crude Oil Pipeline (EACOP)
Type:
TotalEnergies in discussions with a Chinese company after Russian supplier Chelpipe was hit by sanctions.
Length:
902 miles (1,443 km)
Capacity:
200,000 b/d
Start:
2022
Completion:
2025