EU Proposes Permanent Scheme for Joint Gas Purchases
9/5/2023
(Reuters) — The European Commission has proposed making the EU's scheme for joint gas purchases permanent, after demand exceeded expectations in the policy's first tenders to seek non-Russian fuel, a document showed, and officials told Reuters.
The EU launched the joint gas buying this year after Russia slashed gas deliveries to Europe in 2022, driving European energy prices to record highs.
While the EU has since refilled its natural gas storage to over 90% of capacity and the market is relatively bearish, Brussels still fears a scramble for resources in the face of a future unexpected event such as the explosion on Nord Stream 2, a key Russian gas pipeline to Germany, last year.
The temporary scheme was due to expire in December, but the Commission has proposed making it permanent as part of a broader revamp of EU gas market rules.
Under the Commission proposal seen by Reuters, EU companies would permanently have the option to buy fuel jointly. Participation would be voluntary, but if the EU faced a fuel supply crisis, joint buying would become mandatory to avoid EU countries competing for the same scarce volumes.
"It's established, it's working, the number of companies is increasing," one senior EU official said, of joint gas buying.
Despite initial skepticism from industry sources over whether companies would use the scheme, the EU has so far gathered demand for more than 27 billion cubic meters of gas — double the 13.5 Bcm Brussels had aimed to purchase jointly.
However, it is not clear how much of that demand has been translated into firm contracts. The EU matches gas buyers and sellers but is not involved in the commercial negotiations that follow - and companies are not obliged to disclose when they sign deals. The new EU proposal would require companies to report when they sign contracts through the scheme.
Negotiators from EU member states and the European Parliament — which must both approve new EU laws — will discuss the proposal later this month. They aim to finish the law by the end of the year.
Countries are still negotiating how to define a "supply crisis" that would trigger mandatory joint buying, and whether to extend joint buying to other energy commodities such as hydrogen, the senior EU official said.
The proposal suggests expanding the scheme to assist the planned European Hydrogen Bank that will be launched in November.
The joint purchases make up only a sliver of the EU's total gas demand of around 360 Bcm but aim to help countries prepare for winter when Europe's gas demand for heating peaks. The EU heads towards this winter with its gas storage caverns unusually full - at 93% of capacity, Gas Infrastructure Europe data show.
The EU has vowed to quit Russian fossil fuels by 2027. European imports of Russian pipeline gas — the main way Moscow previously sent gas to Europe — have plunged since Russia invaded Ukraine, but EU countries have struggled to quit Russian liquefied natural gas. The joint buying scheme cannot purchase Russian gas.
Related News
Related News
Sign up to Receive Our Newsletter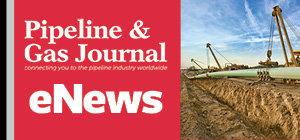 Pipeline Project Spotlight
Owner:
East African Crude Oil Pipeline Company
Project:
East African Crude Oil Pipeline (EACOP)
Type:
TotalEnergies in discussions with a Chinese company after Russian supplier Chelpipe was hit by sanctions.
Length:
902 miles (1,443 km)
Capacity:
200,000 b/d
Start:
2022
Completion:
2025