FERC Approves Sempra's Port Arthur LNG Phase 2 Expansion Project
9/22/2023
(P&GJ) — Sempra Infrastructure has announced that the Federal Energy Regulatory Commission (FERC) has approved the permit authorizing the Port Arthur LNG Phase 2 expansion project under development at Port Arthur LNG in Jefferson County, Texas.
The permit is a major regulatory milestone for a proposed Phase 2 project, including the addition of two liquefaction trains (trains 3 and 4) capable of producing up to 13 million tonnes per annum (MTPA) of LNG.
"Sempra Infrastructure is committed to investing in infrastructure opportunities that help enable a cleaner and more secure energy future," Justin Bird, CEO of Sempra Infrastructure, said. "Today's FERC order is a significant step in our ability to advance the global energy transition, creating an opportunity to double the amount of secure and reliable U.S. natural gas that Port Arthur LNG can help deliver to global markets."
With Phase 1 currently under construction, the development of the proposed Phase 2 project could increase the total liquefaction capacity of the facility from approximately 13 MTPA to approximately 26 MTPA. The proposed project is also expected to include an additional LNG storage tank and marine berth and would benefit from some of the common facilities currently under construction that were previously approved as part of the Port Arthur LNG Phase 1 permitting process.
Sempra Infrastructure continues to evaluate opportunities to develop the entirety of the Port Arthur site while also exploring potential projects to reduce the carbon intensity of its LNG, positioning Port Arthur as a flagship hub for the energy transition. The company is leveraging the integrated capabilities of its business segments to develop the proposed Port Arthur Pipeline Texas Connector project, the proposed Post Arthur Pipeline Louisiana Connector project and develop new gas storage facilities, all of which would serve the Port Arthur LNG facility.
To further the advancement of the Port Arthur Energy Hub, the company recently acquired 38,000 acres of pore space and relevant surface rights to support the proposed Titan Carbon Sequestration project, which is proximal in location to the Port Arthur LNG facility. The project targets capturing carbon from Sempra Infrastructure's Port Arthur LNG Phase 1 and 2 projects that are currently under development and has the potential to unlock other net-zero energy infrastructure opportunities. This comprehensive development approach utilizes Sempra Infrastructure's broad development and operational expertise to enhance the total value of Port Arthur and can deliver significant value for the local community, opening up substantial avenues for economic growth opportunities for the region.
"The value proposition of the proposed Port Arthur Energy Hub goes beyond monetary investment in the region," Bird said. "The proposed projects by Sempra Infrastructure would create new, high-paying jobs, increase innovative business in the region and continue to bolster the reputation of the State of Texas as a global energy leader."
The Port Arthur LNG Phase 2 project is under active marketing and development. The project could help meet future demand for U.S. LNG supplies expected to serve European, Asian and other global markets as countries look to enhance energy reliability and security, and displace coal in power production.
The Port Arthur LNG Phase 1 project is currently under construction and is designed to include two natural gas liquefaction trains, two LNG storage tanks and associated facilities. 
Development of the Port Arthur LNG Phase 2 project, the Titan Carbon Sequestration project, the proposed Port Arthur Pipeline Louisiana Connector project, proposed Port Arthur Texas Connector project and new gas storage facilities is contingent upon completing the required commercial agreements, securing and/or maintaining all necessary permits, obtaining financing, and reaching a final investment decision, among other factors.
Related News
Related News
Sign up to Receive Our Newsletter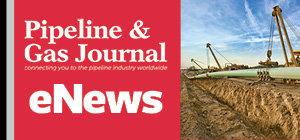 Pipeline Project Spotlight
Owner:
East African Crude Oil Pipeline Company
Project:
East African Crude Oil Pipeline (EACOP)
Type:
TotalEnergies in discussions with a Chinese company after Russian supplier Chelpipe was hit by sanctions.
Length:
902 miles (1,443 km)
Capacity:
200,000 b/d
Start:
2022
Completion:
2025