Freeport LNG Gas Intake Cut for a Fourth Day to About a Third
9/12/2023
(Reuters) — Freeport LNG's natural gas intake on Tuesday remained well below capacity for a fourth day, at about 695 million cubic feet per day (MMcf/d), or about a third of its normal rate, according to LSEG data.
The second largest LNG producer in the U.S. typically draws about 2 billion cubic feet per day (Bcf/d) of natural gas, but since Saturday has absorbed significantly less, the data showed.
Analysts have said at least two of the facility's three gas-processing trains may be idled. Trains 1 and 3 have been affected, said sources familiar with Freeport's operations.
A company spokesperson declined to comment.
Four tankers — the BW Pavilion Aranda, LNG Schneeweisschen, Marvel Crane and Hellas Diana — were waiting on Tuesday to load near Freeport LNG. The last vessel that departed from Freeport carrying an LNG cargo was the Yiannis, which left on Sept. 8, according to the LSEG data.
Freeport LNG has had at least six emission events over the last two months, according to state environmental agency Texas Commission on Environmental Quality (TCEQ). There was a reduction in feedgas intake of between 200 MMcf/d and 500 MMcf/d on those six occasions, according to LSEG data.
Four events affected Train 3 processing unit, with the most recent on Sept. 5. The other two occasions in which gas usage fell were caused by events at Train 1 unit, according to the TCEQ report.
Each time there was a return to normal operations within 48 hours.
The Freeport export plant in Texas was shut after a fire in June 2022, and ended an eight-month outage in February.
U.S. natural gas futures NGc1 on Tuesday jumped about 6% on the New York Mercantile Exchange to a one-week high, on a big drop in daily output and forecasts for warmer weather and higher demand over the next two weeks.
An outage at the facility would add to market concerns over global LNG supply as workers at Chevron's Gorgon and Wheatstone LNG projects in Australia began work stoppages last Friday. Chevron has asked an industrial relations tribunal to resolve the labor dispute.
Related News
Related News
Sign up to Receive Our Newsletter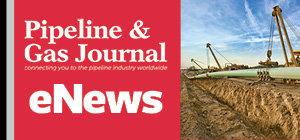 Pipeline Project Spotlight
Owner:
East African Crude Oil Pipeline Company
Project:
East African Crude Oil Pipeline (EACOP)
Type:
TotalEnergies in discussions with a Chinese company after Russian supplier Chelpipe was hit by sanctions.
Length:
902 miles (1,443 km)
Capacity:
200,000 b/d
Start:
2022
Completion:
2025