Pipeline Operator Enbridge Could Add 200,000 bpd to Mainline Oil Pipeline Capacity
9/20/2023
(Reuters) — Enbridge Inc. could add 200,000 barrels per day (bpd) of capacity to its 3 million bpd Mainline system, which ships the bulk of Canada's crude exports to the United States, a company executive said on Tuesday.
However, Enbridge would only look at proceeding with the expansion once the Canadian government-owned Trans Mountain expansion (TMX) project starts operating, said Marc Weil, a senior vice president in the company's Liquids Pipelines business.
TMX, which will compete with the Mainline, will add another 590,000 bpd of pipeline capacity to Canada's Pacific Coast once complete. But the long overdue project, due to start operating in the first quarter of 2024, is facing further delays because of a last-minute route deviation request in British Columbia.
"Obviously industry would like to see TMX come online and see how that shakes out," Weil said in an interview.
"Once that happens, we do have some additional egress options for the basin and we think that at the right point in time, (producers) will be looking for some additional insurance and we'd be engaging in talks with them at that point."
Once TMX starts operating, western Canada will have more export capacity than it needs, but oil companies are already increasing production in anticipation of the extra pipeline space.
Weil said the longer TMX is delayed the higher the chance western Canadian export pipelines could hit capacity.
Enbridge's Mainline is already "essentially full right now" Weil added.
The amount of crude shippers can transport on the system will be rationed in October because demand to move oil exceeds available capacity, a process known as apportionment, the company said. Light crude volumes will be apportioned by 7% and heavy volumes by 10%.
Related News
Related News
Sign up to Receive Our Newsletter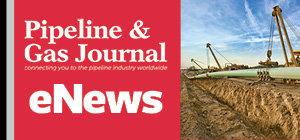 Pipeline Project Spotlight
Owner:
East African Crude Oil Pipeline Company
Project:
East African Crude Oil Pipeline (EACOP)
Type:
TotalEnergies in discussions with a Chinese company after Russian supplier Chelpipe was hit by sanctions.
Length:
902 miles (1,443 km)
Capacity:
200,000 b/d
Start:
2022
Completion:
2025