Russian Oil Producers Send CPC Blend to UAE, Open New Export Route
9/21/2023
(Editor's Note: This Sept. 20 story has been corrected to remove reference to other entities named Paramount)
(Reuters) — Russian oil producers supplied their first cargoes of CPC Blend crude to the United Arab Emirates (UAE) in August and September, four traders told Reuters, opening up a new export route as Moscow looks to find new customers and skirt Western sanctions.
Moscow has found new markets for its oil despite sanctions imposed by G7 countries since the start of the war in Ukraine, which Moscow calls a special military operation.
The world's third largest oil exporter, Russia has rerouted most of its oil to China, India and Turkey over the past year, and has also sent cargoes to countries including Brazil, Sri Lanka and Pakistan.
In August and September two Russian firms - oil major Lukoil and independent producer CenGeo - sold their oil to the UAE, the four traders said.
Both supplied CPC Blend, a grade that is being mostly produced in Kazakhstan and supplied to global markets through Russia's Black Sea port of Yuzhnaya Ozereyevka.
However, some crude from Russia is also being added to the CPC pipeline in Russia, according to the CPC website.
CenGeo supplied a cargo to a company named in shipping agent data as Paramount that loaded on Aug. 14-16 in the port of Yuzhnaya Ozereyevka.
The cargo was offloaded at ADNOC's Ruwais refinery terminal on Sept. 14, data from LSEG, which tracks oil shipments, shows.
Reuters could not establish further details on the company that took the cargo.
Early in August, Lukoil's trading arm Litasco supplied 123,000 tonnes of CPC Blend oil on Delta Hellas tanker also to Ruwais terminal, LSEG data shows.
ADNOC declined to comment on the purchase. CenGeo and Lukoil did not reply to Reuters requests for comment.
The UAE, which is itself a large producer and supplies Murban oil to international markets, sometimes imports different grades for its refineries to optimize price differences, traders said.
CPC Blend oil delivered to UAE's ports in September would be cheaper than the UAE's Murban oil, traders said.
The UAE has not imposed sanctions on Russia over war in Ukraine.
The U.S. Office of Foreign Assets Control (OFAC) said earlier that CPC Blend oil was not subject to sanctions if it was of Kazakh origin and suggested that buyers of the blend should seek certificates of origin.
The U.S. warning on CPC Blend only applies to buyers which are observing sanctions.
The two traders, who declined to be named, said that the CPC crude from Russia was sold at discount to Kazakh cargoes.
Related News
Related News
Sign up to Receive Our Newsletter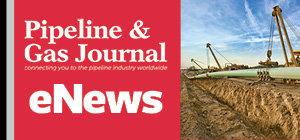 Pipeline Project Spotlight
Owner:
East African Crude Oil Pipeline Company
Project:
East African Crude Oil Pipeline (EACOP)
Type:
TotalEnergies in discussions with a Chinese company after Russian supplier Chelpipe was hit by sanctions.
Length:
902 miles (1,443 km)
Capacity:
200,000 b/d
Start:
2022
Completion:
2025