Trans Mountain Asks Regulator to Approve Oil Pipeline Tolls Despite Shipper Complaints
9/15/2023
(Reuters) — Trans Mountain Corp., the oil pipeline company owned by the Canadian government, asked a regulator on Thursday to approve the proposed tolls it wants to charge shippers, who have said they are too high.
In a filing to the Canada Energy Regulator (CER), Trans Mountain also said the interim toll proposal would result in the pipeline operator absorbing two-thirds of the construction cost increases for its long-delayed expansion project.
The expansion would nearly triple the flow of crude from Alberta to Canada's Pacific Coast in British Columbia to 890,000 barrels per day and is due to start up early next year. Construction has been beset by delays and a nearly quadrupling of its costs to C$30.9 billion ($22.84 billion).
Trans Mountain wants to recoup some of those costs from shippers and set tolls based on a formula outlined in an earlier agreement.
"The approved toll methodology is essentially a cost risk-sharing framework, and Trans Mountain's applied-for interim fixed tolls would result in Trans Mountain bearing more than two-thirds of the construction cost increases for the project since 2017," Trans Mountain's lawyer Sander Duncanson said in the filing.
Duncanson said the CER should approve the tolls on an interim basis, subject to further assessment in a later hearing.
"There is no evidentiary or legal basis for the (CER) to relieve the shippers from their corresponding obligations under the (agreement)," Duncanson said.
Shippers who have argued for tolls based on other factors include Canada's biggest oil producer Canadian Natural Resources and PetroChina.
The Trans Mountain expansion could be delayed by up to nine months if regulators do not approve a route deviation request, Trans Mountain told the CER this week.
($1 = 1.3527 Canadian dollars)
Related News
Related News
Sign up to Receive Our Newsletter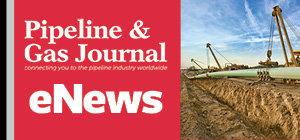 Pipeline Project Spotlight
Owner:
East African Crude Oil Pipeline Company
Project:
East African Crude Oil Pipeline (EACOP)
Type:
TotalEnergies in discussions with a Chinese company after Russian supplier Chelpipe was hit by sanctions.
Length:
902 miles (1,443 km)
Capacity:
200,000 b/d
Start:
2022
Completion:
2025