February 2013, Vol. 240 No. 2
Business Meetings & Events
Editor's Notebook
Editor's Notebook: The State Of The Industry
Texas Medical Center, Jan. 8—-I'm laying here in the middle of the night high up in St. Luke's Episcopal Hospital hooked to an IV and other gadgets monitoring my vitals. It is raining as I stare into the shrouded mist that blankets this vast complex.
Features
Government
Federal Excavation Requirements Imminent
A final rule meant to limit pipeline damage from excavation should be made final this summer. Two advisory committees voted approval and authorized changes to the proposed rule the Pipeline and Hazardous Materials Safety Administration (PHMSA) issued in April 2012. Many of the changes appeared designed to toughen requirements on excavators.
In The News
INGAA, APCA, OSHA Ramp Up Pipeline Construction Safety Measures
The INGAA Foundation Inc. has released Construction Safety Consensus Guidelines designed to cover common natural gas construction operations such as basic personal protection equipment (PPE), pressure testing, overhead utilities safety, and trenching and excavation.
Projects
Q&A
CSIA Offers Key Services To Pipelines
As technical and maintenance staffs shrink at manufacturing operations in North America and around the world, more industry clients are turning to Control System Integrators Association (CSIA) to run their operations more efficiently.
Sign up to Receive Our Newsletter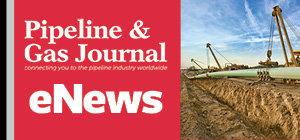 Pipeline Project Spotlight
Owner:
East African Crude Oil Pipeline Company
Project:
East African Crude Oil Pipeline (EACOP)
Type:
TotalEnergies in discussions with a Chinese company after Russian supplier Chelpipe was hit by sanctions.
Length:
902 miles (1,443 km)
Capacity:
200,000 b/d
Start:
2022
Completion:
2025