Charlie Joyce: Born And Raised To Be A Pipeliner

Editor's Note: The hallmark of the pipeline business has always been symbolized by the handshake. Never has there been a better example of this tradition than with Charlie Joyce and his family, owners of Otis Eastern Service, Inc., in Wellsville, NY. The company is the leading Northeast-based pipeline contractor, especially known for its work in meeting the region's difficult environmental and logistical challenges. Although the shale revolution has opened up new doors for North American contractors, there is increased pressure from operators and more competition from competing contractors, more of whom are now owned by financiers and investment groups. In a few more years there may not be any family-owned pipeline contractors left.
In our Q&A interviews we normally send a list of questions to the interviewee that they respond to electronically. In this instance, Mr. Joyce took the time to use our questions to frame his story in his own words. He also offers a poignant memory of his father, Charles W. Joyce, who died June 9 at the age of 84.
I always knew I would end up in the pipeline business. I worked during the summers in high school and college. I loved the freewheeling spirit of the workers and the characters I would meet.
Growing up, the family would spend part of the summer near a job location where my father was working and it was always exciting. As I got close to college graduation the construction of the Trans-Alaska Pipeline was on the horizon and the company had some big projects in Western Canada. My plans for law school were discarded and the day after graduation in 1972 from Cornell University (with a BA in government) I moved to Calgary and went to work on the first 48-inch pipeline in North America for Interprovincial, with loops in Alberta, Saskatchewan, and Manitoba.
I grew up in southwestern New York State. It is in an area that was once highly productive for shallow oil and gas. People there say Pennsylvania Crude was actually discovered in New York. There is an oil spring nearby that was first noticed by French missionaries in the 1600s; several large-diameter pipeline systems cross this region. Today, we are in the middle of the Marcellus Shale fairway. I have always loved sports and participated in basketball, baseball, and soccer through high school. I also played rugby in college and later in Australia.
Our purchase of Otis Eastern Service Inc. is interesting. Otis was founded in 1936 as the Eastern Division of Otis Engineering in Dallas. They made high-pressure blow-off preventers for the drilling industry throughout the Appalachians. My father was working for them on a drilling rig in the Leidy, PA field when I was born. He and my uncle, Jim Joyce, worked together with Joyce Western Corp. until l980, building many of the original transmission systems in the region.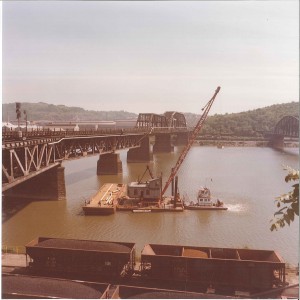 On Their Own
By 1982, my father decided he wanted to set out on his own. Otis, his old company, had been doing well-servicing and pipeline work and the owners wanted to retire so the deal was made. I joined him in 1983 as vice president (becoming president in 1995) and we worked together to build a company. Along the way we were helped tremendously by friends, customers, and suppliers. It has been a great run.
We have been involved in some truly challenging projects. We have always been willing to take on the more unusual jobs which others, perhaps justifiably, were reluctant to try. Some that stick out are the 48-inch line in Western Canada; double-jointing all of the pipe for the Trans-Alaska Pipeline; several tough projects in downtown Boston; and the Iroquois Pipeline through Connecticut where we used more than 500,000 pounds of explosives.
My favorite was our first "big-dollar" job as Otis, laying air and waterlines for snowmaking up ski slopes in the Catskill Mountains for the New York State Department of Environmental Conservation. It was steep, rocky, and dangerous. To top it off the bids were opened publicly and we were almost a million dollars low.
I thought we were out of business early. We approached it like a typical mountain pipeline job and finished what was expected to be a one-year job in four months. We were off to a good start. The DEC still talks about it as a model project.

Thoughts On Leadership
My leadership style has always been to provide background support and guidance to my field people and let them manage the work. In the early years I felt I had to be involved with every decision on every job. As we grew, that became an impossible task. In our business, the superintendent/spreadman is the leader onsite, with his own following and style. As a result, the product that contractors turn out for the owner can be perceived differently as their job personnel changes.
I always felt this was not a good approach. I have worked to make our product consistent no matter who is in charge. Through a combination of growing management people from within and hiring quality people who fit our system, we have been able to achieve continuity and this has allowed me to transition from a quarterback to a general manager.
Obviously, there have been some changes in technology and equipment. Increased use of HDDs, better methods of coating application, improved pipe handlers, etc., have all made the construction process more refined, but the basics – trenching; welding; and lowering-in – are all done much the same as when I started. What has changed dramatically is oversight and regulation: FERC, DOT, PHMSA, OSHA, ACE, state and local agencies, just to name a few, all play important roles in the workplace.
Ours is a mature industry and we are good stewards of the land. While I support efforts to minimize disturbance and to mitigate construction impact, I question the wisdom of practices such as extensive matting, which requires the harvesting of thousands of acres of valuable hardwoods, in areas we can restore to their natural form after pipe installation. We are also asked to work on increasingly narrow workspace which adds safety concerns.
With regard to finding qualified workers, throughout the slow period in the late '80s,'90s, and early 2000s, we lost almost an entire generation of pipeliners. We could not attract new people and our workforce aged. I think we are recovering. We are now able to promise a future with good wages and benefits and can promote more rapidly. We have strong training programs with the operators and the laborers, but still have many gaps with the welders and the Teamsters. We still have a long way to go.
Changing Faces Of The Industry
The faces of the operating companies have changed dramatically with mergers, consolidations and acquisitions. The owner group is constantly evolving, making long-term relationships rare. Add to the mix new transporters such as production companies and midstream operators, and an entire new client base has developed. The greater emphasis on workplace safety benefits all of us. More stringent documentation and record-keeping requirements raise staffing needs both in the field and at the home office.
There is very little standardization among the operators in construction specifications, operation qualification requirements, welder qualifications, and data development. Little progress has been made in that area in my career and unnecessary work is created. Contract terms have become much more rigorous and many owners look to transfer risk and liability to the contractors. The days of a handshake deal are very rare. We are fortunate to have some long-term relationships which allow agreements to be negotiated.
Vice President Tony Deusenbery is my go-to person and there are several family members active in the company. My son, Casey, joined us after college, my brother Dick is a vice president; a cousin, Jimmy Joyce, manages our long-term maintenance contracts and there are several other cousins, nephews, etc. scattered throughout the roster. They are loyal and productive. We also have some third- and fourth-generation employees whose families have contributed greatly to our success. I also have a daughter, Anna.
The challenge for us as a family-owned business is in keeping pace with a field of competitors that are owned by investment groups or conglomerates. When I started out, almost all contractors were family-owned. Now there are just a handful of us. The investor owners have plenty of resources and put a lot of pressure on the market.
We are presently considering a partnership which would allow us to compete without sacrificing our identity. It is a difficult decision to make. This has always been an industry where you knew your competitors and respected them. Today, much of the management focus is strictly financial and there is much less personal contact.
At Home In The Northeast
We have always felt comfortable in the Northeast market although we do extend to Michigan and down into the mid-Atlantic states. We have a strong relationship with the operating companies with facilities here and, since we are one of the few contractors based in the region, we are able to provide maintenance and response services efficiently and quickly. Our patience has been rewarded with the advent of the Marcellus Shale revolution since we are located geographically at its center. I am surprised by the extent of the activity generated.
Back when my father was a driller, the Marcellus formation was a nuisance, causing well fires and drill hole cave-ins. We have always been in the shallow oil and gas production business and never dreamed that this would once again become a world-class producing region. The most exciting thing about the shale boom is that it has long-term potential and real impact on our energy future. We are only just at the tip of the iceberg since stable pricing and supply will generate projects for years to come.
The competitive atmosphere is tougher than ever. Contractors owned by investment groups and utilities, looking to drive growth and increase volume, have expanded geographically and pushed down margins initially. Operators, driven by shareholder pressure, are continually looking to reduce construction costs while at the same time adding risk and field restrictions, which in turn drive our costs up. The shale boom has also attracted new contractors with little understanding of regional conditions, which has a negative pricing impact.
I believe that the next 10 to 15 years will be the most exciting and active period ever for our industry. As our domestic gas and oil production grows, so will transportation needs. We are already seeing large projects to move natural gas liquids to processors and every day new power plant conversions come online. With long-term stable prices our industry can feel confident in expansion. The growing overseas LNG market will help balance our nation's trade deficit.
We are on the cutting edge of a big transformation for our country and pipelines are playing a major part in it. It reminds me of the excitement that the discovery of oil at Prudhoe Bay brought with it early in my career.
At present, our work program covers the broad spectrum of job types that shale development brings to the table. We are building new pipelines for midstream companies like Williams OVM; PVR; and MarkWest. We are replacing aging infrastructure to move gas for Peoples Gas; we are putting new taps on Spectra's new main lines to receive producer gas, we are helping Sunoco Logistics convert a 600-mile-long products pipeline system from Philadelphia to Detroit into an ethane pipeline, and we are working with DTI to expand capacity to their storage fields. In the past all this of would have taken years to play out. Now things move rapidly. We sometimes go from bid to construction within a week.
A Father's Influence
The single biggest influence on my career was my father, Charles H. Joyce. I watched him treat people with respect. He was consistent in his approach to business and life. I learned from him that if you do things right the first time people will trust you and want you back. You didn't have to look back with regret on your work product or your conduct with people. When he gave his word he honored it and trusted that he would receive the same in return. In our industry, where the weather, ground conditions, and other factors can turn a project in the wrong direction, the client is more likely to be willing to help you if you recognize that they have issues to such as permitting, materials, or easement delays and treat them fairly in these situations.
The pipeline business has always been full of true characters who enjoyed the hard work but always found time to have fun with their friends and competitors along the way. People like Carl Weatherford, Gerald Snyder, Bill Wilhite, Dick Leonard, Mike Curran, Dave Parker and others taught me a great deal. My best friends are pipeliners. I would be remiss not to mention Roger Pentzien. He epitomizes the meaning of grace and integrity. He is truly a legend in our industry and has been a role model of mine for years.
I continue to be disappointed in our present administration and the way they have failed to develop a concise, workable energy policy. Given the vast resources of oil and gas we have discovered, we have the opportunity to improve the quality of life in our country; and yet the president and others like New York Gov. Cuomo continue to let politics and hysteria prevent them from making prudent decisions.
Another Perspective
A colleague who become a best friend can usually be counted on to offer the best assessment of a man's career and character. Ray Keller, senior sales and marketing representative for Greene's Energy Group in Houston, has known Charlie Joyce and his family for many years and offers this insight into a relationship that has spanned 40 years.
"Charlie and I became friends first in a customer/vendor relationship and then the relationship turned us into real friends. We first worked together on a 30-inch Consolidated Gas job in Chambersburg, Pa in the early' 70s. Our work ethics are similar and we developed a trust between each other, first on the business side and then personally.
"Charlie was the youngest president of the Pipe Line Contractors Association. Our children are the same age and have developed their own relationships. Charlie was one of the first people to meet my soon-to-be wife Joni while we were dating and his 'approval' encouraged us to be married 29 years ago.
"Two words can describe Charlie. In the business world, dedicated is on the spot and personally, compassionate. He has helped many on both sides of the aisle. He has worked all over the world including Australia and Alaska and perhaps that experience is what makes him special in the industry.
"Labor relations are his forte in the pipeline world and charitable causes are his forte personally. His wife Sherry has made her own mark in the industry and shares his same compassion for helping others. The Joyces have made my family part of their family. Honesty and integrity are the backbone of his business philosophy and personal life. There is always room for a smile on Charlie's face."
Related Articles