September 2013, Vol. 240 No. 9
Business Meetings & Events
Editor's Notebook
Editor's Notebook: Gold Medal Life
In 1992 I first met George Phydias Mitchell on the 60th floor of Houston's tallest skyscraper. If you looked far enough to the north you could see The Woodlands, the master-planned development community he created about 30 miles from where we sat. If you looked 50 miles to the south, you might see the city of Galveston where Mr. Mitchell was born, where he spent much of his fortune on revitalization efforts, and where his wonderful life would end on July 26 at age 94.
Features
From the Burner Tip
"How Green Is My Energy?" Big Factor In Fuel Choice
"Green energy sources" are becoming more popular but still make only a small dent in the country's or even the global energy supply. Green energy today includes conventional hydropower, wind, solar, wood and waste biomass, and geothermal. Some observers include nuclear because the waste products are easily collected and handled. Almost any source of energy that is free of fossil fuels is considered green energy. Many times the green fuels are a renewable source of energy.
Government
Senate to Consider Pipeline Permitting Reform, Too
The Senate may consider some form of pipeline permitting reform but the bill may not look like the one the House was expected to pass. Sen. Ron Wyden (D-OR), chairman of the Energy and Natural Resources Committee, released a broad statement on natural gas issues July 25.
In The News
Projects
Q&A
Charlie Joyce: Born And Raised To Be A Pipeliner
The hallmark of the pipeline business has always been symbolized by the handshake. Never has there been a better example of this tradition than with Charlie Joyce and his family, owners of Otis Eastern Service, Inc., in Wellsville, NY.
Silver Flame Burns Bright For Long-Time LDC Manager
As a fitting tribute to Pat Riley's three decades-plus of contributions to the natural gas industry, he was recently named recipient of the Tennessee Gas Association's coveted Silver Flame Award. Riley, the long-time general manager for Gibson County Utility District – covering about 500 square miles and serving 12,000 natural gas customers – sits on the executive and full board at the TGA as well as the energy subcommittee of the state Chamber of Commerce.
TechNotes
New Technology For Gas Flow And Composition
Quantitech has launched an in-pipe gas flow monitoring technology that can also measure gas composition or purity. Unlike other methods, this measurement is not affected by the gas composition, temperature, density, viscosity or pressure, and there is no obstruction at the measurement point.
What's New
September 2013 New Products And Services
New products and services from Newpark, i-cubed, Sawyer Mfg. Co., Kinyon Construction, Synodon, Rockwell Automation, Save The World Air (STWA), Master Bond, Crystal Engineering, John Deere, Pyramid Transportation and more.
Sign up to Receive Our Newsletter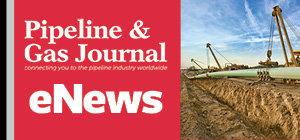 Pipeline Project Spotlight
Owner:
East African Crude Oil Pipeline Company
Project:
East African Crude Oil Pipeline (EACOP)
Type:
TotalEnergies in discussions with a Chinese company after Russian supplier Chelpipe was hit by sanctions.
Length:
902 miles (1,443 km)
Capacity:
200,000 b/d
Start:
2022
Completion:
2025