April 2015, Vol. 242, No. 4
Business Meetings & Events
April 2015 Ad Index
Advertisers from the print edition of Pipeline & Gas Journal April 2015, Vol. 242, Number 4.
Editor's Notebook
Notebook: Hey, Gov. Cuomo, Fracking Ban Not Working For Rest of State
Gov. Andrew Cuomo: Get your butt out of Albany and go see how the rest of your state lives. Or you might not have much of a state left. One memory that stands out from my 1970s tenure as a reporter in New York's Southern Tier is that of an economy stuck in reverse. Broome County centers around Binghamton, a city of 47,000 that has lost nearly half its population since the 1950s.
Features
Government
INGAA Seeks Changes to EPA Proposed Facility Blowdown Reporting
The Interstate Natural Gas Association of America (INGAA) wants the EPA to revise its proposed requirement that interstate and intrastate pipelines measure emissions from pipeline blowdowns. This would expand an existing greenhouse gas (GHG) reporting rule which already cover s compressors and other equipment.
Projects
Pembina To Expand Vantage Pipeline System
Pembina Pipeline Corp. plans to expand the Vantage pipeline system for an estimated $85 million. The expansion entails increasing Vantage's mainline capacity from 40,000 bpd to 68,000 bpd through the addition of mainline pump stations and the construction of a 80-km, 8-inch gathering lateral. The mainline expansion is supported by a long-term, fee-for-service agreement, with a substantial take-or-pay component. The gathering lateral is underpinned by a fixed return on invested capital agreement. The expansion is expected to be in-service in early 2016.
Sempra Signs MOU to Develop Pemex Gas Liquefaction Project
Sempra Energy announced that its IEnova and Sempra LNG units have signed a Memorandum of Understanding (MOU) with a subsidiary of Pemex, Mexico's state-owned petroleum company, for development of a natural gas liquefaction project at the Energía Costa Azul receipt terminal in Ensenada, Mexico. Pemex would have the opportunity to become a customer, natural gas supplier and investor. "This is an important first step in working with Pemex on the development of liquefaction facilities at Energía Costa Azul," said Mark A. Snell, president of Sempra Energy.
Tallgrass/AGL Resources To Develop Prairie State Pipeline
Tallgrass Development, LP and AGL Resources Inc. concluded the non-binding open season for the proposed Prairie State Pipeline. The system would move natural gas from supply connections in central Illinois to the Chicago Market Center and points in between. Prairie State Pipeline is being jointly developed by Tallgrass and AGL Resources and is expected to have ownership participation by both companies should binding commitments be finalized with interested market participants.
What's New
What's New: April 2015
What's new from Rotork, Ajax TOCCO, Crest Industrial, Transducers Direct, Tulsa Rig Iron and more.
Sign up to Receive Our Newsletter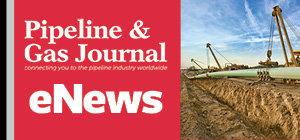 Pipeline Project Spotlight
Owner:
East African Crude Oil Pipeline Company
Project:
East African Crude Oil Pipeline (EACOP)
Type:
TotalEnergies in discussions with a Chinese company after Russian supplier Chelpipe was hit by sanctions.
Length:
902 miles (1,443 km)
Capacity:
200,000 b/d
Start:
2022
Completion:
2025