May 2017, Vol. 244, No. 5
Company & Association News
Business News
Associations HomeServe USA, a provider of home emergency repair service plans, is partnering with the American Public Gas Association to enable APGA's more than 700 member companies to offer customers access to a suite of energy-related repair service programs, including  gas piping systems, water ..
Features
Government
Government
An overview of new pipeline regulations, as featured in the May 2017 issue.
In The News
In the News
Enbridge, NDT Global Advance R&D of Next-Generation Inspection Technology Enbridge Inc. and NDT Global will partner in a multi-year project to advance innovation in pipeline inspection technology. The agreement focuses on development of a new generation of inspection tool designed to further improv..
World News
CERI: Technology Reduces Oil Sands Costs, Emissions The Canadian Energy Research Institute (CERI) released a study identifying new technologies and processes that will enable the oil sands industry to significantly reduce costs and greenhouse gas emissions. The report identifies six technology con..
Legal Perspectives
Trump Effect: How the Administration Could Reshape Pipeline Regulation
A Conversation with Babst Calland Energy Attorney Keith Coyle P&GJ: What are you hearing from the pipeline industry in terms of its expectations on anticipated federal regulatory reforms resulting from President Trump's executive actions? What are the financial and safety stakes at hand? Coyle: Th..
Projects
Projects
An overview of pipeline construction projects, as featured in the May 2017 issue.
Q&A
Pierce Norton Sets a Proactive Path for AGA
Pierce Norton's career had already spanned six different companies before he joined ONEOK in 2004, but he had effectively been working there all along.  By the time he became president of its distribution companies, Tulsa-based ONEOK owned every natural gas system that Norton had operated since join..
TechNotes
Milliken Infrastructure Brings Solution to Polyethylene Repair
Polyethylene (PE) pipe is a staple of the gas distribution industry, but it has always had a major challenge when it comes to repair. Due to its resistance to bonding applications, the only way to repair damaged PE pipe has been to completely remove the damaged portion and splice in new pipe through..
What's New
What's New
An overview of the latest technology for use on pipeline construction projects, as featured in our May 2017 issue.
Sign up to Receive Our Newsletter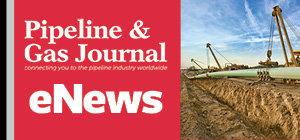 Pipeline Project Spotlight
Owner:
East African Crude Oil Pipeline Company
Project:
East African Crude Oil Pipeline (EACOP)
Type:
TotalEnergies in discussions with a Chinese company after Russian supplier Chelpipe was hit by sanctions.
Length:
902 miles (1,443 km)
Capacity:
200,000 b/d
Start:
2022
Completion:
2025