A Conversation with Kinder Morgan's Tom Martin
By Joe Hollier, Editor
Tom Martin serves as president of the Natural Gas Pipelines Group for Kinder Morgan, one of the largest energy infrastructure companies in North America. In this role, he is responsible for all commercial and operational activities of the Kinder Morgan Natural Gas Pipelines Group, which encompasses approximately 70,000 miles of natural gas transmission pipelines and gathering lines, plus storage, treating and processing facilities.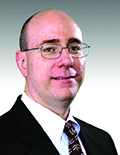 Martin joined Kinder Morgan as vice president of Optimization and Storage in the Texas Intrastate Pipeline Group in 2003.  He was named president of the Texas Intrastate Pipeline Group in 2005 and assumed his current position in 2009. Martin has more than 25 years of commercial experience in the unregulated and regulated U. S. natural gas pipeline industry. He holds a bachelor's degree in accounting from Texas A&M University and is a registered Certified Public Accountant.
P&GJ:When did you get involved in the oil and gas industry, and how did you end up in your current position at Kinder Morgan?
Martin: I first got involved in the energy industry in the mid to late 1980s in the advent of natural gas transportation and marketing becoming an open access and unbundled marketplace.  It was an exciting and fascinating time to grow up in the industry with so much change and opportunity.  I joined Kinder Morgan in 2003 and have worked in both intrastate and interstate markets.  As I have grown in my career, I have come to appreciate and be proud of the important role that pipeline infrastructure plays in the economic development of our country and improved quality of life for people.
P&GJ:Has the growing anti-fossil fuel movement changed how Kinder Morgan addresses stakeholders on new projects and expansions?
Martin: It has always been a priority to consult with a variety of stakeholders at every stage of a project.  As pipeline projects have increasingly become a target for the anti-fossil fuel movement, however, we have been engaging with stakeholders much earlier in the project planning process.
Each project is unique, but we typically have conversations with landowners, local, state and federal officials, as well as regulatory agencies, businesses, community organizations, indigenous groups, individuals or groups opposed to our project, and others. Our goal is to educate our stakeholders about the need for the project, provide project details, such as possible facility locations and construction timing, and to address any issues or questions they may have.
P&GJ: Does the company have any concerns about pending regulations?
Martin: At the federal level, the current Administration seems open to taking seriously legitimate safety and technology concerns as they develop regulations, but the imposition of tariffs on imported steel is problematic.  Our other current concern is what happens with NAFTA.  Mexico is a strong market for us; we deliver more than 70 percent of U.S. exports to Mexico.
P&GJ:The Permian Basin continues to be a prolific resource. What is Kinder Morgan doing there now, and is there an opportunity or need for more pipeline expansions?
Martin: There is currently an enormous need for additional pipeline transportation capacity in the Permian, and we are working on several expansion projects on our existing NGPL (Natural Gas Pipeline Company of America) and EPNG (El Paso Natural Gas) systems in order to help alleviate some of the constraints. 
We also are developing the Gulf Coast Express Pipeline with joint-venture partners DCP Midstream and Targa Resources, in response to the tremendous need for additional takeaway capacity out of the Permian. Kinder Morgan will build and operate the $1.75 billion project, which is designed to transport up to 1.98 billion cubic feet per day of natural gas from the Permian Basin to growing markets on the Texas Gulf Coast.
P&GJ: How is the Elba Liquefaction Project coming along, and when do you expect to start exporting LNG from the facility?
Martin: Construction is currently under way at our Elba Liquefaction Project, and we are expecting initial service to begin in the third quarter of this year.  The final units are scheduled to come online by mid-2019 to bring total liquefaction capacity to approximately 2.5 million tons per year of LNG, which is equivalent to about 350 million cubic feet per day of natural gas.
This project adds liquefaction and export capability to Southern LNG Company's existing terminal at Elba Island in Georgia.  It is supported by a 20-year contract with Shell.
P&GJ: Are you concerned there might be broader implications for Canada's inter-governmental squabbling over the Trans Mountain expansion?  How does this compare and contrast with U.S. state agencies taking actions that impede construction of FERC-approved projects?
Martin: It's all fueled by the so-called "keep it in the ground" agenda.  While I certainly respect that people have different opinions about natural gas and oil, it would be better if those opinions were better grounded in facts. 
Oil, natural gas, natural gas liquids and petrochemicals are the foundation of our civilization.   And I'm sure these protesters would be surprised to learn that while the U.S. has increased its reliance on natural gas-powered electricity generation by 45% in the past decade, power-sector CO2 emissions have gone down 28% in the same period of time. Or that U.S. methane emissions from natural gas systems decreased over 15% from 1990 to 2016, despite a 49% increase in natural gas production over the same period.
P&GJ: What are some of your interests outside of work?
Martin: I am from a large extended family that lives locally, so I am fortunate to be able to spend leisure time with them and close friends on a regular basis.  I also enjoy traveling, reading, listening to music, going to sporting events and being involved in the community. P&GJ
Related Articles