November 2019, Vol. 246, No. 11
Editor's Notebook
PGJ: A Shared Pipeline Experience
After sitting at the keyboard for several minutes, though, I realized that hitting on the high points of a magazine that was already more than 150 years old when I joined the staff seven years ago – and has grown to be so much more than a magazine in the digital age – would be a fool's errand for a couple of reasons.
Features
CO2 Pipelines
Alberta Carbon Trunk Line About to Come on Line
The Alberta Carbon Trunk Line (ACTL) project in Alberta, Canada, is a massive undertaking. It consists of a 150-mile (240-km) pipeline, which will gather 14.6 mtpa of CO2 when it reaches full capacity.
Global News
Government
PHMSA Issues Major Gas and Hazardous Liquid Safety Rules
Years after receiving congressional directives to change pipeline safety laws – with similar suggestions coming from the National Transportation Safety Administration – the federal pipeline safety agency finally issued two major rules, one directed at interstate gas pipelines the other at hazardous liquids pipelines.
EPA May Cancel Emission Controls for Gas Transmission
The Environmental Protection Agency wants to relieve the gas transmission industry from compliance with 2012 and 2016 Clean Air Act standards related to volatile organic chemicals (VOC) and greenhouse gases, chiefly methane.
Projects
What's New
Engineering Services Guide
Engineering Services Guide
Today, more than ever, oil and gas pipeline companies are depending on engineering, environmental, and field-service firms to help design and maintain their systems while keeping them in compliance with increasingly strict regulations. Operators want to partner with the best companies. Pipeline & Gas Journal's Engineering Services Guide highlights services to owners/operators from around the world.
People in the News
Companies in the News
MDE Group
Energy recruitment firm MDE Group of Norway announced it will consolidate its position in the North Sea through the opening of an Aberdeen office and the appointment of Zander Thornton as its first regional manager in Scotland. Thornton, a specialist in technical recruitment and energy business deve..
Gulfstream Services International
Gulfstream Services International (GSI), an offshore equipment and engineered solutions provider, also has announced its continued growth with a move into new Aberdeen headquarters. The firm expanded into an 8,000-square-foot workshop with a team of 15, where it will manufacture and deliver edge equ..
Associations in the News
GTI
GTI announced it has a new virtual reality training module available for use by natural gas leak emergency first responders.  The module is designed to help prepare utility personnel be more effective and efficient with identifying and responding to hazardous conditions. ..
Obituaries
Rita Tubb
Former Pipeline & Gas Journal editor Maretta Faye Tubb, commonly known as Rita, died Sept. 27 at age 80. Tubb spent 21 years on the staff at P&GJ in the roles of managing editor and executive editor before retiring in 2016. She previously was on the editorial staff of McGraw Hill, where she helped ..
Jack Maki
Oil and gas businessman Alfred John "Jack" Maki, 74, died at his home in Houston surrounded by his family after an illness. Maki's career spanned over 50 years with stints working as a corrosion coating engineer and selling coating for pipelines.  Maki was born in Brockton, Mass. to Alfred and Marg..
Sign up to Receive Our Newsletter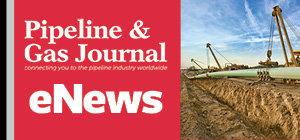 Pipeline Project Spotlight
Owner:
East African Crude Oil Pipeline Company
Project:
East African Crude Oil Pipeline (EACOP)
Type:
TotalEnergies in discussions with a Chinese company after Russian supplier Chelpipe was hit by sanctions.
Length:
902 miles (1,443 km)
Capacity:
200,000 b/d
Start:
2022
Completion:
2025