United Piping Dealing with Unplanned Pipeline Outages
Executive Q&A: Joel Bailer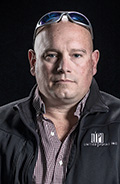 Growing up in rural Michigan, Joel Bailer, vice president of Construction at Duluth, Minn.-based United Piping Inc., remembers frequently seeing line markers along the road.   
People would say "That's the pipeline," he recalls. "We didn't think much of it, never realizing the amount of infrastructure that was there. I would have never guessed that years later I'd be able to pick them out and know who the oil or gas company was by their line markers."  
Bailer was introduced to the oil industry when his twin brother, who had just started in the industry, called from Wyoming and said the company he worked for was looking for help. The only thing he knew about this type of work at the time was that it paid well.   
"I took my Rand McNally and headed west (GPS wasn't a thing yet)," he said. "That's the short of it."  
Over the years, Bailer said, he has seen some of the hardest working, dedicated people that all have the same goal of helping keep these industries up and running – all of them very different but connected at the same time.   
Recently, he spoke with P&GJ specifically about repairing unplanned pipeline outages. 

P&GJ: What specific cause of unplanned pipeline outages provides the most difficulty to repair?  
Bailer: Well, I think there are two that stand out. One would be when the public unknowingly encounters a pipeline. These assets go unnoticed to most of the public. In the past we have been on calls where a company or farmer has been tilling fields for drainage and inadvertently came into contact with a line. This is very dangerous but avoidable.   
Many of the pipelines that we help maintain have been in the ground for years and have supplied energy with little to no issue. They are out of sight and out of mind, but they are there. These days with GPS and As-Built drawings, there is solid information about where the lines are.   
The second cause of an unplanned outage would have to be from a defect in the line. This could have been there for years, or even from installation. This is where the maintenance of these lines is so important. What makes repair more difficult is usually logistics.   
Getting the right people and machinery on the ground as quickly and safely as possible is an effort by everyone at United Piping. Along with that, good communication with the oil and gas companies so the correct materials needed to make the repairs is extremely important.  
P&GJ: Are you ever involved in emergency efforts, such as work done in and around reported natural gas leaks?    
Bailer: UPI has the capability to respond to all pipeline emergencies. With offices and yards in several states, we can assist with everything from replacements to clean-ups.   

P&GJ: What causes of unplanned outages do you feel would be the easiest to prevent, and how should the operator go about doing so?  
Bailer: Public knowledge of where lines lay would help. Being proactive and getting the correct information out to landowners would be a start.  Calling 811 for location services, prior to digging or doing anything with underground utilities, is the number one thing that homeowners and contractors should do.  
If you look at news feeds, you typically only see information when there is an issue with a pipeline, never how it helps the communities where these operators have assets.    

P&GJ: Can you cite one or two of your "most challenging" fixes for unplanned outages? What made them difficult (dense population, terrain, weather, etc.)  
Bailer: Any time that you are out in the public domain is challenging. You always have the onlookers and with social media these days the information gets out very quickly, even if it's the wrong information.  
Another is just the difficulty of working in the winter. The ground is frozen, pumps are frozen, everything is slowed down. Your hands can only work in the weather for short periods of time and need to be protected from the elements, as well as the ongoing construction.   

P&GJ: Are there any pieces of new equipment or technological advances that become available in the last few years that make your work less difficult or safer?  
Bailer: There are advancements every year with scanning equipment. From remote vehicles that have the ability to drive themselves and view the inside of a pipe to the new scanners that show the stress on sections of piping. All are helping move the industry forward.   
Pipeline construction as a whole has   really focused on increased safety for all employees. Our most important assets are our friends and family that work in this industry. 
Related Articles