Companies Asking Oklahoma Judge to Toss Earthquake Lawsuit
12/9/2015
TULSA, Okla. (AP) — Two energy companies are asking a judge to throw out a lawsuit by an Oklahoma woman who claims she was injured in an earthquake caused by the injection of wastewater deep into the ground — a method used for decades by the industry to dispose of the chemical-laced byproduct of oil and gas production.
The lawsuit by Prague resident Sandra Ladra alleges the companies are liable because they operated the wastewater disposal wells that triggered the largest earthquake in state history, a 5.6-magnitude temblor that hit in 2011. Ladra, who claims the quake crumbled her two-story fireplace and caused rocks to fall on her legs and gash her knee, is among others who have similar lawsuits pending across the country.
Lincoln County District Judge Cynthia Ferrell Ashwood is to hear the companies' motion to dismiss Wednesday. Ladra is suing Spess Oil Co., in Cleveland, OK, Tulsa-based New Dominion LLC and 25 unnamed parties.
Ladra's case was given new life in June when the Oklahoma Supreme Court overturned an earlier decision by Ashwood to dismiss the suit, ruling then that the court didn't have jurisdiction in the matter.
Energy companies claim the litigation could cripple oil and gas production in Oklahoma, a state tied to the industry. Regulation proponents say the lawsuits could result in safer drilling practices.
Scientists have linked injection of wastewater to the sharp uptick of earthquakes in Oklahoma. A recent study by the U.S. Geological Survey traced wastewater injection methods to the 1920s in Oklahoma and tied the rise in quakes in the past 100 years to industrial activities, such as oil and natural gas production. About 1.5 Bbbls of wastewater was disposed underground in Oklahoma last year, according to statistics released by the governor's office.
A swarm of earthquakes has recently rumbled through the north-central swath of the state, one with a 4.7 magnitude. In response, the Oklahoma Corporation Commission's oil and gas division has proposed ways for wastewater disposal well operators in that area to halt or reduce volume.
Scott E. Poynter, Ladra's lead attorney, said the scientific studies linking injection wells to earthquakes — and a state agency that recently said it's "very likely" the cause — bolsters her claim.
"When you look at the actual science and you look at the data, you can't help but go, 'It's the injection wells, stupid.' It's just that obvious," Poynter said. "Oklahoma shouldn't have more earthquakes than anywhere on the planet, but it does."
An attorney for New Dominion declined to comment on the case outside of court. A lawyer for Spess Oil didn't return a message seeking comment.
Some industry representatives and oil and gas producers acknowledge that some of the earthquakes in Oklahoma are man-made, but warn against generalizing that all of the temblors have been triggered by their practices.
Chad Warmington, president of the Oklahoma Oil & Gas Association, which represents many of the larger companies exploring in the state, said the correlation needs further study and a way to strike "a balance of injecting and producing without an increase in seismic activity."
Kim Hatfield, president of Crawley Petroleum, which operates in Oklahoma and Texas, said the ramifications of lawsuits such as Ladra's could weaken the energy industry in Oklahoma and have devastating economic consequences.
"Are you familiar with 'The Grapes of Wrath'? This would make that look like a comedy," Hatfield said. "That would be a self-inflicted wound of tremendous magnitude for the state, and oil companies will say, 'We're not going to drill in Oklahoma.'
"It would be a tragedy of just monumental proportions," he said.
Related News
Related News
Sign up to Receive Our Newsletter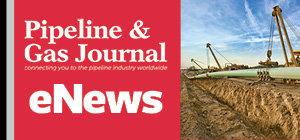 Pipeline Project Spotlight
Owner:
East African Crude Oil Pipeline Company
Project:
East African Crude Oil Pipeline (EACOP)
Type:
TotalEnergies in discussions with a Chinese company after Russian supplier Chelpipe was hit by sanctions.
Length:
902 miles (1,443 km)
Capacity:
200,000 b/d
Start:
2022
Completion:
2025