Occidental Receives $10 Billion From Berkshire Hathaway for Anadarko Bid
5/1/2019
OMAHA, Nebraska (AP) — Warren Buffett's Berkshire Hathaway will finance a bid by Occidental Petroleum for Anadarko, potentially upending Chevron's $33 billion offer for the energy company.
At stake are choice oil and gas fields spread across Texas and New Mexico, including a 75-mile-wide corridor across the Delaware Basin, a region bountiful with natural gas.
Anadarko Petroleum accepted a buyout bid from Chevron earlier last month, but it's now considering Occidental's offer worth about $57 billion in cash and stock, including debt and book value of non-controlling interest. Chevron's offer would be worth about $50 billion by the same metric.
Chevron maintained Tuesday that its signed agreement with Anadarko is superior, but with Buffett stepping in many saw the advantage swing decidedly toward the much smaller Occidental and its CEO, Vicki Hollub.
Berkshire will invest $10 billion in Occidental contingent on Occidental's acquisition of Anadarko.
While Berkshire already holds interests in the energy sector, including PacifiCorp, MidAmerican Energy, and Phillips 66, it's not Berkshire's track record in the energy sector that would be the most valuable asset to Occidental. It's Buffett's ability to make deals happen. The Occidental financing is similar to several deals Berkshire has made since the financial crisis.
"We are thrilled to have Berkshire Hathaway's financial support of this exciting opportunity," Hollub said Tuesday in a prepared statement. "We look forward to engaging with Anadarko's board of directors to deliver this superior transaction to our respective shareholders."
Occidental announced its counter offer last week setting up something not seen for years in the oil patch — a potential bidding war.
"Even if we look back at two decades of history, this is virtually unprecedented," said Pavel Molchanov, senior vice president and equity research analyst at Raymond James & Associates.
If Anadarko does walk away from Chevron, it would have to pay a $1 billion breakup fee under its agreement.
Some analysts feel the entry of Buffett's Berkshire Hathaway could lead to the exit of Chevron, which is more than five times the size of Occidental.
Shares of Chevron rose 3 percent with many investors believing it would choose not to escalate the fight for Anadarko by raising its $50 billion bid.
Sign up to Receive Our Newsletter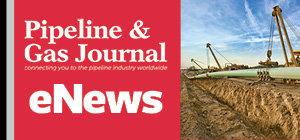 Pipeline Project Spotlight
Owner:
East African Crude Oil Pipeline Company
Project:
East African Crude Oil Pipeline (EACOP)
Type:
TotalEnergies in discussions with a Chinese company after Russian supplier Chelpipe was hit by sanctions.
Length:
902 miles (1,443 km)
Capacity:
200,000 b/d
Start:
2022
Completion:
2025