Trans Mountain Concerns, Oil Industry Alienated After Trudeau Victory
10/23/2019
(Reuters) — Canadian Prime Minister Justin Trudeau's victory in the country's general election on Tuesday left oil industry folks concerned about the fate of the Trans Mountain pipeline and feeling a sense of abandonment by the nation's top office. 
Analysts questioned the fate of the long-delayed Trans Mountain pipeline expansion on Tuesday after Canadian Prime Minister Justin Trudeau retained power but failed to win a majority, forcing him to seek the support of left-leaning parties opposed to new oil pipelines.
Trudeau's Liberals will most likely need the support of the New Democratic Party and possibly the Green Party to enact key legislation - both of which are firmly opposed to the expansion of the pipeline, which will triple the flow of oil sands crude to the British Columbia coast.
The Trans Mountain pipeline was bought by the Trudeau government last year for C$4.5 billion ($3.4 billion), but its expansion has run into legal battles, even as construction started last month.
Energy brokerage Tudor, Pickering, Holt & Co analysts said that if Canada's Federal Court of Appeal decides there was insufficient consultation with indigenous groups on the expansion and the project goes back to the cabinet for approval, it could become a hot-button issue as the Liberals seek support from the other-left leaning parties.
Canada's Federal Court of Appeal had in September agreed to hear challenges by six indigenous groups of the Canadian government's approval for an expansion of the Trans Mountain oil pipeline.
"Even though the Liberal government remains fully committed to TMX, there will be a degree of angst in the oil patch that the project could be used as a bargaining chip in future negotiations with another party," TD Bank Senior Economist Brian DePratto said.
RBC analysts echoed those concerns, but added that they expect the government to move ahead with the expansion. It also added that it did not expect TC Energy Corp's proposed Keystone XL oil pipeline to be affected by the election results.
Ryan Bushell, portfolio manager at Newhaven Asset Management Inc, said he does not think the new government will have to make huge concessions like shutting down the expansion as it was a relatively strong minority government.
"I don't think it's any worse. The threats are still there and they remain there. Those threats existed before and kind of the same a day later."
The S&P TSX Canadian energy sector was up 1.28% after falling as much as 0.8% in early trading.
ALIENATION
The election also left the country's western oil patch without any representation in Ottawa, furthering a sense of alienation in a region already deeply frustrated with the government's energy and pipeline policies.
The oil industry's top lobbying group has blamed Trudeau's policies for throttling investment in the sector, and some global energy companies have shed assets in the oil sands region of Alberta, the country's main oil-producing province.
Prime Minister Justin Trudeau's Liberals, who will form a minority government, failed to win a seat in either Alberta or Saskatchewan, the heart of the struggling oil industry. The party received just 13.7% of the vote in Alberta and 11.6% in Saskatchewan.
The Liberals will govern after taking 33.1% of the national popular vote, less than the Conservatives, who won 34.4% nationally and swept all but one seat in the two provinces. The Conservatives, who enjoyed the open support of some in the oil industry, won 69.2% of votes in Alberta and 64.3% in Saskatchewan.
The national results leave Canada's energy sector, already hit by slumping capital investment and weak oil prices, worried about being ignored by decision-makers in the east.
"There will be greater alienation and it'll be a challenge for Justin Trudeau," said Lori Williams, a political science professor at Calgary's Mount Royal University.
The term 'Wexit,' alluding to a western Canadian version of Brexit, was trending on Twitter after the vote on Monday night.
In his victory speech early on Tuesday, Trudeau appealed directly to Alberta and Saskatchewan, calling them "an essential part of our great country."
But the prime minister's need to rely on New Democratic Party leader Jagmeet Singh, who remains firmly opposed to a pipeline expansion to the Pacific coast and "fossil fuel subsidies," may undermine the cause of the oil and gas industry.
When teenage climate activist Greta Thunberg marched with thousands of protesters in Alberta last Friday, a truck convoy of oil and gas workers staged a smaller counter-rally.
Mistrust of the Trudeau name runs deep in the province after former Prime Minister Pierre Trudeau, the current leader's father, tried to impose more federal control over the energy sector in the 1980s.
Right-leaning leaders, federally and provincially, are on a war footing, taking up the western cause in hopes it will help them defeat Justin Trudeau in the next election. Minority governments rarely last more than 2-1/2 years in Canada.
"There is a fire burning in the Prairie provinces," Saskatchewan Premier Scott Moe told reporters on Tuesday. He said he wanted to meet Trudeau with a proposal to extinguish the fire, "and I'm asking him not to show up with a gas can."
Moe challenged Trudeau to discuss restructuring equalization payments, which redistribute wealth among Canadian provinces, and sealing a "new deal" with the two provinces to get pipelines built. Alberta and Saskatchewan do not receive any equalization payments because of their oil and gas wealth.
Alberta Premier Jason Kenney said on Twitter he spoke to Trudeau on Tuesday morning and underscored that the "deep frustration expressed by Albertans is very real."
"If the frustration and alienation in Alberta continues, it will pose a very serious challenge to national unity," Kenney told reporters later.
'HATRED OF THE WEST'
The sense of western alienation is most acute in Alberta, where the provincial economy has been struggling since the 2014/15 global oil price crash and unemployment is higher than the national average.
Business has slowed and costs for equipment have doubled over the past four years at the John Deere dealer in Bassano, Alberta, a small town southeast of Calgary, said employee Gary Lee, 64, on Tuesday.
"I'm a little disappointed that so many people voted with their hatred of the West," Lee said. A minority Liberal government aggravates the sense of isolation already felt in rural Alberta, he said.
Conservative leader Andrew Scheer on Tuesday blamed Trudeau for making the country "more divided than it's ever been."
"Justin Trudeau has attacked our energy sector, has ignored the concerns of Alberta and Saskatchewan," he said.
Levels of satisfaction in Alberta and Saskatchewan with the direction of the country and of the federal government are "off-the-chart bad," said Frank Graves, president of polling company EKOS Research.
"Saskatchewan and Alberta are really the two most angry (provinces)," Graves said. "This is visceral discontent with the country they're living in right now."
Related News
Related News
Sign up to Receive Our Newsletter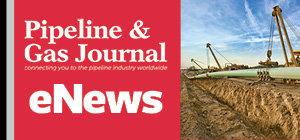 Pipeline Project Spotlight
Owner:
East African Crude Oil Pipeline Company
Project:
East African Crude Oil Pipeline (EACOP)
Type:
TotalEnergies in discussions with a Chinese company after Russian supplier Chelpipe was hit by sanctions.
Length:
902 miles (1,443 km)
Capacity:
200,000 b/d
Start:
2022
Completion:
2025