Williams Completes Gateway Expansion Project Ahead of Schedule
1/1/2020
(P&GJ) — Williams today said it has placed its Gateway Expansion into full service 11 months ahead of schedule through "expedited project execution and construction," boosting natural gas deliveries to the energy-hungry U.S. Northeast by 65,000 MMcf/d in time for the winter heating season. 
The Gateway project, an expansion of Williams' existing Transco pipeline system, adds incremental firm transportation capacity to PSEG Power and UGI Energy Services to meet growing natural gas demand for New Jersey tri-state consumers.
Construction on the Gateway Expansion began in early 2019, with an original in-service projection of November 2020. The project minimized community and environmental impacts by maximizing the utilization of existing pipeline infrastructure, Williams said, with virtually all project activities confined to Transco's existing footprint in New Jersey.
It increases design capacity to 17.3 Bcf/d for the Transco system, which includes approximately 10,000 miles of pipeline between South Texas and New York City. The system reaches U.S. markets in 12 Southeastern and Atlantic Seaboard states, including major metropolitan areas in New York, New Jersey and Pennsylvania.
Environmental opposition to pipeline construction has been especially active and often effective in the Northeast region, making early construction of the project all the more notable.  With its announcement of the completed Gateway expansion, Williams sought to address critics by emphasizing its environmental and financial benefits to the region, which pays higher electricity rates than other areas of the United States 
"Natural gas plays an important role in helping to address environmental concerns about air quality and climate change," said Alan Armstrong, president and CEO of Tulsa, Okla.-based Williams.
"The Gateway Expansion Project is a great example of how affordable natural gas can help New Jersey meet its clean energy goals, and I'm very proud of our team for their focus and careful execution of this project, which enabled us to exceed our customers' expectations and deliver in a safe and environmentally responsible manner," he said.
Williams said the project provides gas supply capacity to meet the daily home heating, hot water and cooking needs of about 280,000 homes.
"This is equivalent to removing approximately 590,000 metric tons per year of greenhouse gas emissions as a result of converting heating oil to natural gas. Switching to natural gas is estimated to provide savings of $1,460 per year per household compared to heating oil," the company said in its announcement.
It added: "Williams recognizes the important role natural gas plays in addressing environmental concerns regarding air quality and climate change, particularly when it comes to displacing or providing alternatives to more polluting fuels. Natural gas is a flexible, lower-emission fuel compared to other hydrocarbons such as coal or heating oil. And, because the U.S. has an abundant supply of natural gas, using this local, cleaner resource has significantly reduced U.S. emissions." 
The Gateway Expansion project required the installation of additional electric horsepower at an existing Transco compressor station in Essex County, N.J., (Station 303) in addition to modifications to an existing Transco meter station in Essex County and the replacement of an existing Transco meter station in Passaic County, N.J.
Station 303 Horsepower Addition
Transco Station 303 is an existing electric motor driven compressor facility in Roseland, N.J. The Gateway Expansion project proposal required adding a 27,500 horsepower electric motor driven compressor unit to the facility. This horsepower addition will help minimize air emissions at the station and surrounding environment and as a result did not require any federal, state or local air quality permits
Meter Station Modifications
Meter stations are used to measure the flow of gas from the transmission pipeline to the pipeline customer. As part of this project, Transco replaced components of the existing above-ground metering facility in Paterson, N.J., with new, state-of-the-art equipment and buildings. The majority of this work was confined to the existing facility footprint. It also included the installation of a new valve at the existing meter and regulating facility in Roseland, N.J.
Project Timeline
November 2017 – FERC filing
December 2018 – FERC issues order approving the project
December 2019 – Project placed into service December 31, 2019
Cost  
The certificate application reflected an expected capital cost of $84.6 million
Related News
Related News
Sign up to Receive Our Newsletter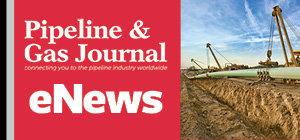 Pipeline Project Spotlight
Owner:
East African Crude Oil Pipeline Company
Project:
East African Crude Oil Pipeline (EACOP)
Type:
TotalEnergies in discussions with a Chinese company after Russian supplier Chelpipe was hit by sanctions.
Length:
902 miles (1,443 km)
Capacity:
200,000 b/d
Start:
2022
Completion:
2025