Kinder Morgan Reroutes Portion of Permian Pipeline, Reaffirms Commitment
8/18/2020
By Jason Cockerham
(P&GJ) — Texas energy firm Kinder Morgan remains committed to its Permian Highway Pipeline and has agreed to reroute a short portion of the project after experiencing drilling fluid spills and notable opposition in recent months. 
In a letter to the Houston Chronicle, Kinder Morgan CEO Steven Kean reaffirmed the company's commitment to the $2 billion pipeline project but announced that it had decided to reroute the pipeline around the Blanco River, adding an extra two miles to the planned route. 
The Blanco River passes through an area of the state known as the Texas Hill Country, an ecologically sensitive portion of Texas home to hundreds of underground streams, aquifers, aqueducts and air pockets known as "karst."
Kean's letter was published the day after an op-ed piece appeared in the Chronicle penned by award-winning singers Willie Nelson and Paul Simon expressing opposition to the project. 
"Pipelines and spills go hand in hand, and already there have been multiple accidents," the singers said in reference to two incidents of drilling fluid spilling into the underground waterways.
In late March, 36,000 gallons of drilling fluid spilled into the Trinity Aquifer affecting six freshwater drinking wells owned by local residents. 
Just over three months later, drilling fluid spilled again near Fredricksburg Texas, 70 miles north of San Antonio, right in the middle of the Texas Hill Country. 
In his letter, Kean spoke of the company's actions in response to the spills including providing funds to pay for temporary water storage tanks, potable water deliveries, plumbing, and well repairs for affected landowners.
"Drilling activities at the river have been permanently canceled," he added. 
The singers called upon the Texas Railroad Commission, which regulates the state's energy industry, and the U.S. Army Corps of Engineers to "step in, heed the objections of Hill Country residents and act accordingly to stop the pipeline."
Kinder Morgan told Pipeline & Gas Journal in a statement that the company began negotiating the reroute with local landowners in June and still expects the project to be in service in early 2021. 
Nearly 80% of the work has already been completed on the 430-mile, 2 billion cubic feet per day (bcfd) natural gas pipeline that will carry gas from the Permian Basin in West Texas to an LNG hub near Houston.
Related News
Related News
Sign up to Receive Our Newsletter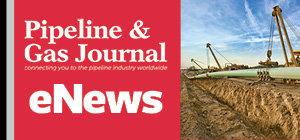 Pipeline Project Spotlight
Owner:
East African Crude Oil Pipeline Company
Project:
East African Crude Oil Pipeline (EACOP)
Type:
TotalEnergies in discussions with a Chinese company after Russian supplier Chelpipe was hit by sanctions.
Length:
902 miles (1,443 km)
Capacity:
200,000 b/d
Start:
2022
Completion:
2025