API Fact-Checks Presidential Debate Energy Positions
10/23/2020
The American Petroleum Institute (API) released the following statement on Thursday's presidential debate.
"To seriously address the risks of climate change, the next U.S. president must be willing to acknowledge the issue is real and put forward realistic solutions, but unfortunately neither candidate did both," API Content and Rapid Response Manager Scott Parker said. "Now more than ever, we need bipartisan policy solutions that do not force a false choice between protecting the environment and growing the U.S. economy.
"Rather than benefit our country's environment and economy, policies that restrict U.S. production of natural gas and oil would jeopardize America's economic recovery, increase energy costs, eliminate good paying union jobs, and shift energy production to foreign countries with lower environmental standards and higher CO2 emissions from energy production."
API provided the fact checks below, it said, to correct the record on discussions about a fracking ban, implementing a carbon-free power sector by 2035, replacing natural gas and oil jobs with clean energy jobs, and policies to reduce CO2 emissions:
Fracking Ban – The U.S. president does not have the authority to ban fracking, but does have some authority over federal lands use, and in that regard, former Vice President Biden goes even further than a fracking ban by banning all new natural gas and oil development on federal lands. A recent study on a federal leasing and development ban found that nearly one million jobs could be lost by 2022, U.S. residential consumers could spend a cumulative $19 billion more on energy by 2030, and the U.S. GDP could decline by a cumulative $700 billion by 2030. Read more
Carbon-Free Power Sector By 2035 – Biden's energy plan calls for transitioning the U.S. to 100% clean energy by 2035, just 15 years from now. For comparison, California's transition to clean energy has been ongoing longer than 15 years, and even with the additional time and smaller scale, the state was recently plagued by blackouts. To give a further sense of how quick Biden's 15-year timeline is:
It took the Department of Defense 17 years to develop and test just one jetfighter program – the F-35.
Boston's 'Big Dig' took 16 years, one year longer than Biden's plan allots to overhaul the nation's power supply.
It took the Obama/Biden administration seven years to decide whether or not to approve a permit on just one energy infrastructure project – the Keystone pipeline.
Replacing Natural Gas & Oil Jobs With Clean Energy Jobs – Biden glosses over the fact that he's campaigning on eliminating countless natural gas and oil jobs by saying his plan would create millions of new jobs, however, the jobs his energy plan would create pay less, provide less opportunity for advancement, and likely require different skill sets than the natural gas and oil jobs it seeks to destroy.
The North America's Building Trades Unions—a coalition of 14 unions with 3 million members—released a pair of studies that found both union and non-union' tradespeople believed natural gas and oil jobs have better wages, benefits and opportunities than renewables projects.
WSJ Editorial Board: "The Bureau of Labor Statistics says the oil and gas industry provides an average annual salary of $108,000, nearly twice the private economy average… NABTU president Sean McGarvey estimates that many union members would 'take a 50% or 75% pay cut.'"
Reducing U.S. Emissions – Lowering America's CO2 emissions does not mean America has to lower its natural gas and oil production, and U.S. policy should reflect that. America's record proves we can increase production and lower emissions, and in fact, the U.S. leads the world in emissions reductions since 2000 thanks to greater use of natural gas and advancing technology and innovation.
U.S. carbon dioxide emissions are at their lowest in a generation, and we're continuing to see progress. The International Energy Agency reported that the U.S. recorded the largest emissions decline of any country last year, down 140 million tons (Mt) from the previous year. Although most Americans would never know it based on environmental activists' antagonism towards natural gas, natural gas displacing coal power has actually led to a greater reduction in CO2 emissions than non-carbon power sources, like wind and solar, displacing coal power. Natural gas has prevented over 3.3 billion metric tons of CO2 emissions since 2005.
Related News
Related News
Sign up to Receive Our Newsletter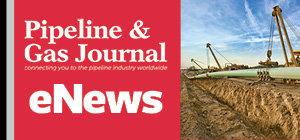 Pipeline Project Spotlight
Owner:
East African Crude Oil Pipeline Company
Project:
East African Crude Oil Pipeline (EACOP)
Type:
TotalEnergies in discussions with a Chinese company after Russian supplier Chelpipe was hit by sanctions.
Length:
902 miles (1,443 km)
Capacity:
200,000 b/d
Start:
2022
Completion:
2025