ExxonMobil to Cut up to 300 Jobs in Canada
11/25/2020
By Jeff Awalt, Executive Editor
(P&GJ) — ExxonMobil on Wednesday announced plans to eliminate up to 300 jobs in Canada by the end of 2021 as part of its ongoing efforts to lower costs. It said the global pandemic has made the cutbacks more urgent.
The job cuts will occur across all of its Canadian affiliates, including Imperial Oil Limited, ExxonMobil Canada Ltd. and ExxonMobil Business Centre Canada ULC, it said. There are currently about 7,300 employees working at those affiliates, a spokesperson said.
"Canada remains an important market for ExxonMobil," the company said in its brief announcement.  "However, further actions are needed at this time to improve costs and ensure the corporation and its affiliates manage through these unprecedented market conditions.
The workforce reductions "result from insight gained through reorganizations and work-process changes made over the past several years," ExxonMobil said, adding, "The impact of COVID-19 on the demand for ExxonMobil's products has increased the urgency of the efficiency work."
ExxonMobil already announced plans in late October to cut its global workforce by about 15%, or roughly 14,000 positions.  It had about 88,300 workers, including 13,300 contractors, at the end of last year.
It estimated about 1,900 employees would lose their jobs in the United States, mostly from its Houston-area campus, the headquarters of its North American oil and gas business.
The Irving, Texas-based oil giant last month revealed it lost an estimated $680 million in the third quarter of 2020 and had reduced its capital and exploration expenditures through the first nine months of the year to $16.6 billion -- more than $6 billion lower than the same period of 2019.
It has reported losses totaling approximately $2.4 billion so far in 2020, a staggering turnaround from more than $8.6 billion in earnings for the first three quarters of last year.
Imperial Oil Limited, 69.6 percent-owned by ExxonMobil, is Canada's largest petroleum refiner, a major producer of crude oil and natural gas and a key petrochemical producer and fuels marketer from coast to coast.
ExxonMobil Canada (EMC) is an owner and operator of oil and gas projects in the Atlantic Canada offshore, and holds petroleum assets in Western and Northern Canada that are operated by Imperial.
Related News
Related News
Sign up to Receive Our Newsletter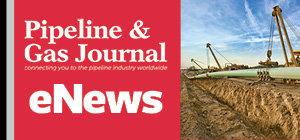 Pipeline Project Spotlight
Owner:
East African Crude Oil Pipeline Company
Project:
East African Crude Oil Pipeline (EACOP)
Type:
TotalEnergies in discussions with a Chinese company after Russian supplier Chelpipe was hit by sanctions.
Length:
902 miles (1,443 km)
Capacity:
200,000 b/d
Start:
2022
Completion:
2025