Pipeline Company Recognizes April as National Safe Digging Month
4/15/2021
Georgia's Colonial Pipeline is reminding homeowners and contractors that safe digging must remain a priority to protect people and prevent damage to critical utility services. Digging without knowing the approximate location of underground utilities can result in serious injuries, service disruptions and costly repairs when gas, electric, communications, water and sewer lines are damaged.
April is recognized as "National Safe Digging Month," and this year Colonial Pipeline is joining industry partners in sharing the safe digging message, as safety remains a top priority. Springtime marks the start of digging season. 811 provides a uniform, national phone number to access local utility location services. Individuals should call this number before digging to protect themselves and others from unintentionally hitting underground utility lines. For homeowners, 811 should be used prior to starting common projects like landscaping, installing a fence or mailbox, building a deck, putting in a pond or patio, and other DIY projects that involve digging.
"Colonial Pipeline is dedicated to sharing the safe digging message, as keeping our neighbors safe and transporting the energy products our nation needs safely and efficiently is at the core of everything we do and every decision we make at Colonial Pipeline," said Angie Kolar, Colonial's Vice President of Operations Services and Chief Risk Officer. "Calling 811 doesn't just protect yourself – it protects your loved ones, community, and the environment."
As part of National Safe Digging Month, Colonial Pipeline reminds everyone completing digging projects – big or small – to take the following steps:
Always use 811, regardless of the size of the project, the depth, or familiarity with the property.
Plan ahead. Call or request an online ticket at least three business days prior to the work, providing ample time for the approximate location of lines to be marked.
Consider moving the location of your project if it is near utility line markings.
If a contractor has been hired, confirm that the contractor has used 811. Don't allow work to begin if the lines aren't marked.
It is critical to use the free-of-charge, public safety service before starting work by calling 811 or placing an online request with the local one call center. Everyone who contacts 811 a few days before digging is connected to a local one call notification center that will collect information about your project and notify local utility companies. Professional locators will visit the dig site to mark the approximate location of underground utility lines and pipelines with spray paint, flags or both. Once a site has been accurately marked, it is safe to begin digging around the marked areas.
Visit www.call811.com for complete details and online ticket options in your state.
Related News
Related News
Sign up to Receive Our Newsletter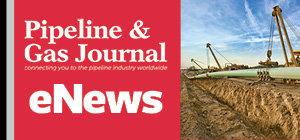 Pipeline Project Spotlight
Owner:
East African Crude Oil Pipeline Company
Project:
East African Crude Oil Pipeline (EACOP)
Type:
TotalEnergies in discussions with a Chinese company after Russian supplier Chelpipe was hit by sanctions.
Length:
902 miles (1,443 km)
Capacity:
200,000 b/d
Start:
2022
Completion:
2025