APGA Urges US Cities and Towns Not to Follow New York City's Mistake
12/20/2021
The American Public Gas Association (APGA), representing more than 700 municipally and publicly owned natural gas systems in 38 states, issued a statement in response to the New York City Council's passage of a measure to eliminate the installation of natural gas hookups in new buildings.
APGA is saddened and disappointed by the New York City Council's decision to eliminate the direct use of natural gas in newly constructed homes and buildings. Policies like this one, which aim to move communities to an all-electric, single-source model, are flawed and will only hurt the over 2 million customers in the city who rely on affordable natural gas to heat their homes, run their appliances and cook their food year-round.
As APGA has expressed in the past, the impact of such policies on emissions is negligible, if not negative. Currently, natural gas accounts for 54% of the electricity generated in New York state, according to the U.S. Energy Information Administration, and 98% of the electricity generated within New York's city limits. This means that shifting to electric appliances for heating and cooking does not eliminate the city's use of natural gas.
Rather, the Council's actions shift New Yorkers' natural gas usage upstream to power an already-overburdened electric grid. Given that the direct use of natural gas in home appliances is 92% efficient from source to site — compared to just 37% when gas is used to generate electricity and run those same appliances — the Council's decision simply pushes natural gas 'out of sight, out of mind' while raising costs and reducing efficiency.
To make meaningful progress toward a sustainable energy future, policymakers in New York City and beyond should consider a balanced approach that combines renewable energy sources like solar and wind alongside the city's reliable and resilient natural gas infrastructure. This comprehensive approach would ensure New York City has access to clean, cost effective, reliable and efficient energy solutions without sacrificing consumer choice or adding burdensome costs.
Related News
Related News
Sign up to Receive Our Newsletter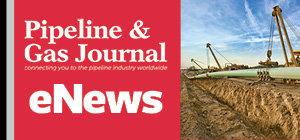 Pipeline Project Spotlight
Owner:
East African Crude Oil Pipeline Company
Project:
East African Crude Oil Pipeline (EACOP)
Type:
TotalEnergies in discussions with a Chinese company after Russian supplier Chelpipe was hit by sanctions.
Length:
902 miles (1,443 km)
Capacity:
200,000 b/d
Start:
2022
Completion:
2025