Palantir and Kinder Morgan Sign Agreement to Strengthen Pipeline Operations
12/2/2021
Palantir Technologies Inc., a builder of operating systems for the modern enterprise, and Kinder Morgan, Inc., one of the largest energy infrastructure companies in North America, announced a multi-year partnership to deploy Palantir's data integration software platform, Foundry, in Kinder Morgan's storage operations to drive efficiency and safety.
Kinder Morgan will deploy Foundry to optimize its United States- based gas storage operations. Operators and decision makers will be provided with a common operating picture of the company's infrastructure, connecting transactional systems data streams, analysis, and operations over supply, grid integrity, customers, and pricing. With real-time access to this information, Foundry will enable Kinder Morgan to make data-driven decisions on gas storage, optimization, and maintenance scheduling.
"Safety, reliability and affordability are critical to the nation's energy infrastructure. Utilizing Foundry will strengthen Kinder Morgan's ability to maintain its lead in those fields," said Shyam Sankar, Palantir's Chief Operating Officer. "Energy companies like Kinder Morgan have vast amounts of data from disparate sources that rarely interact, and we believe Foundry is the best tool on the market to solve this complex problem."
Palantir Foundry is a vertically integrated software platform that bridges the full spectrum of data operations- from ingestion and integration, to transformation, to reporting and the development of operational workflows and tooling through a rapid application development environment. Kinder Morgan will use Foundry to analyze millions of data points from sensors across its entire pipeline network, contracts and storage assets, electricity consumption and weather data, grid data and commodities data to provide it with an overview of business operations.
"Palantir's Foundry was particularly useful at delivering us results on critical and complex challenges quickly," said Mark Huse, Kinder Morgan's CIO. "In our business we put a premium on doing things safely, to be able to also move at such speed is extremely valuable."
Palantir has a long history of working with the industrial, infrastructure and energy sector in the United States and abroad.
Related News
Related News
Sign up to Receive Our Newsletter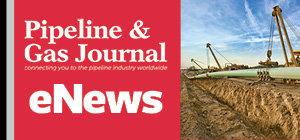 Pipeline Project Spotlight
Owner:
East African Crude Oil Pipeline Company
Project:
East African Crude Oil Pipeline (EACOP)
Type:
TotalEnergies in discussions with a Chinese company after Russian supplier Chelpipe was hit by sanctions.
Length:
902 miles (1,443 km)
Capacity:
200,000 b/d
Start:
2022
Completion:
2025