Waha Hub Prices Rise with Permian Highway Pipeline in Service
1/7/2021
By Maddy McCarty, Digital Editor
The Permian Basin basis to the Henry Hub briefly went positive as the Permian Highway pipeline entered service, the U.S. Energy Information Administration's latest weekly natural gas update announced.
The price at the Waha Hub in West Texas, near Permian Basin production activities, averaged $2.42/MMBtu on Dec. 30, which is 3 cents/MMMBtu above the Henry Hub price. As of Wednesday, the price averaged a weekly high of $2.52/MMBtu, 18 cents/MMBtu below the Henry Hub price, according to the EIA report.
Kinder Morgan's Permian Highway pipeline began commercial in-service on Jan. 1, which adds 2.1 Bcf/d of takeaway capacity out of the Permian Basin to Katy, Texas, with connections to the U.S. Gulf Coast and Mexico markets.
This report accompanied news that U.S. LNG exports had another record-breaking month in December. The exports averaged 9.8 Bcf/d, EIA estimates show based on Bloomberg Finance shipping data.
This follows a November that was also record breaking and makes December's exports more than three times higher than the export levels from summer 2020, the EIA report states.
Factors to the higher levels of U.S. LNG exports include colder-than-normal winter temperatures in key Asian LNG-consuming markets and unplanned outages at LNG export facilities in Australia, Malaysia, Qatar, Norway, Nigeria and Trinidad and Tobago. These outages increased natural gas and LNG prices in Asia and Europe, attracting higher volumes of flexible LNG supplies from the U.S., according to the EIA report.
The total U.S. consumption of natural gas fell, though, by 2.9% compared to the previous report, according to data from HIS Markit.
Natural gas deliveries to U.S. LNG export facilities, or LNG pipeline receipts, remained about the same, averaging 11.0 Bcf/d, according to the report that reflects data from Dec. 31 through Jan. 6.
Northeast natural gas prices increased, the report shows. At the Transcontinental Pipeline Zone 6 trading point for New York City, the price increased 49 cents from $2.31/MMBtu on Dec. 30 to a high of $2.80/MMBtu on Wednesday.
Related News
Related News
Sign up to Receive Our Newsletter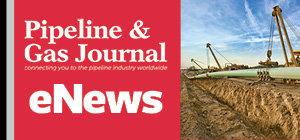 Pipeline Project Spotlight
Owner:
East African Crude Oil Pipeline Company
Project:
East African Crude Oil Pipeline (EACOP)
Type:
TotalEnergies in discussions with a Chinese company after Russian supplier Chelpipe was hit by sanctions.
Length:
902 miles (1,443 km)
Capacity:
200,000 b/d
Start:
2022
Completion:
2025